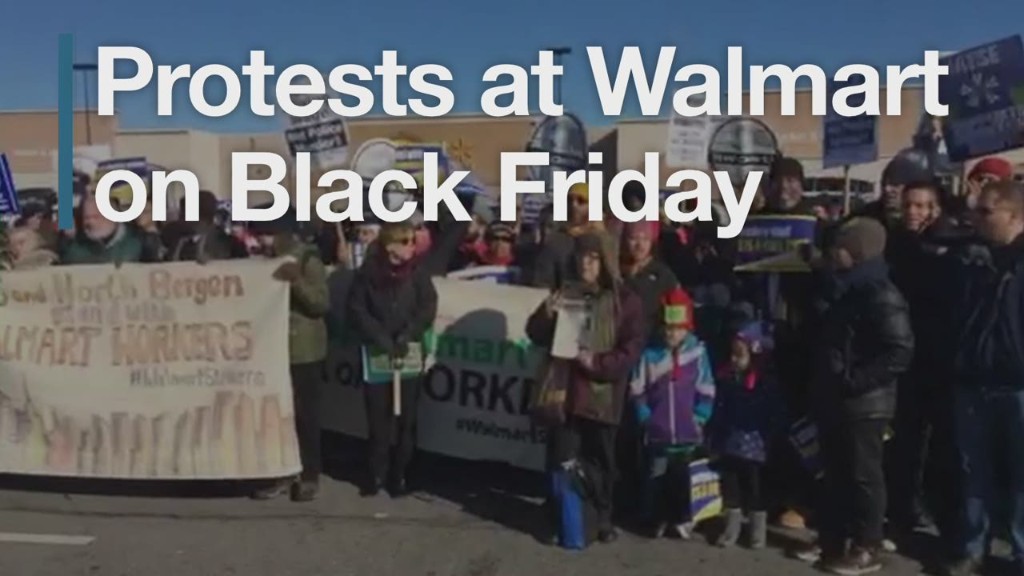 It's becoming a tradition for Black Friday shoppers to find not just deals, but protests at some Walmart stores.
This year, some of the biggest demonstrations took place outside Walmarts in Chicago and Washington D.C., as well in cities in California, Washington, Texas and New Jersey.
At a store in North Bergen, N.J., about 75 protesters marched around the parking lot. They carried signs that read: "People who work deserve a living wage" and "Shame on Walmart." At times they chanted: "Walmart, your kingdom must come down."
Most of them were not Walmart employees but are asking the company to pay all workers at least $15 an hour. Walmart says it pays full-time workers an average of $12.94 an hour.
It is the third year in a row that union-backed groups organized Black Friday protests at some Walmart locations.
Related: 24 hours with a Black Friday worker
But while organizers said demonstrations were planned for 1,600 stores, they could not say exactly how many were taking place. On Friday afternoon, they still expected it to be the biggest action on Black Friday to date, according to Dan Schlademan, a campaign director.
Hundreds of workers were participating on Friday, he said. That includes 30 workers who organizers said walked off the job at stores in Maryland, Virginia and D.C. and seven who were arrested for blocking traffic outside a store in Chicago.
But Walmart spokeswoman Brooke Buchanan said as of Friday afternoon, no employees at any location had come into work and then walked off the job. The company had received a handful of notices from workers who said they were planning to strike today, she said, but an official tally of employees who didn't show up for work was not yet available.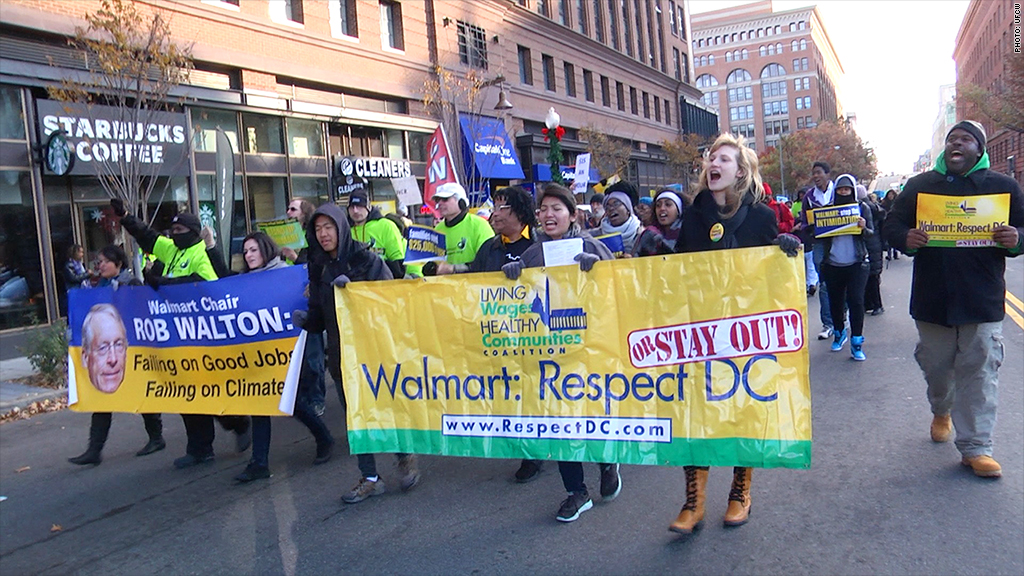 Only one Walmart worker, Barbara Gertz, spoke at the rally outside the New Jersey store, and she actually works in Colorado. The union-backed groups often cover travel costs for workers who come to protest.
Most of the protesters in New Jersey were not workers, but members of unions including the United Food and Commercial Workers Union and the American Postal Workers Union. Some declined to speak with CNNMoney because they said they were not authorized to speak on behalf of the union groups. But Randi Weingarten, president of the American Federation of Teachers union, got on the megaphone to speak to the crowd.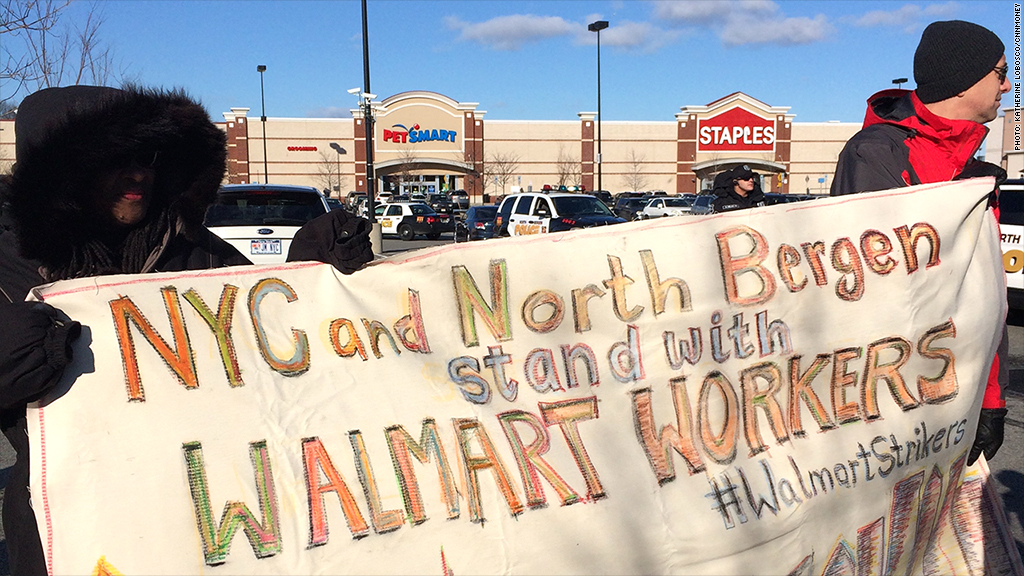 "We will not rest until Walmart workers have a right to a union, a right to a living wage, and a right to decent working conditions and hours," she said. (While some of the unions present are not tied to retail and service employees, they say low hourly wages are a community issue, not just a Walmart issue.)
In the past, unions have been unsuccessful at organizing Walmart workers.
The union groups don't represent Walmart and the protesters do not reflect the view of Walmart associates, Buchanan said.
There are more than 4,000 Walmart (WMT) stores across the country and the company employs about 1.3 million workers in the U.S.