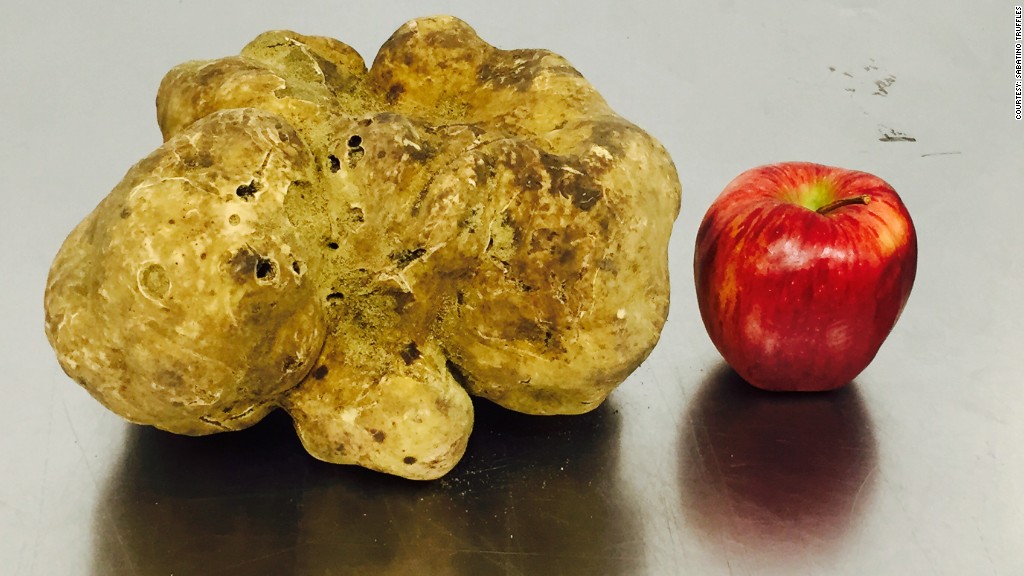 Attention all foodies: The largest white truffle in the world hits the auction block this weekend.
The truffle, which was discovered last week in Italy by Sabatino Truffles, weighs in at a record 4.16 pounds, will go on sale at Sotheby's in New York on Saturday.
This white truffle is twice the size of the existing record holder that sold for $417,200 in 2010, according to the auction house.
"This is an extraordinary find," said Federico Balestra, president of Sabatino Truffles. White truffles are rare and can only be found in select areas of Italy during three months of the year. One of the company's truffle hunters found the treasure while out with a young dog.
Related: 'Cowardly Lion' costume sells for $3.1 million
"Usually it's the older, more experienced dogs that make these finds because it takes a very trained nose to find them," Balestra explained. "White truffles can be buried 10-15 inches underground sometimes."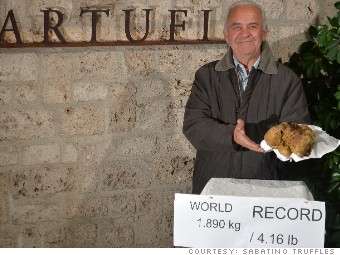 But this food gem was discover only about four inches down. "When the hunter started to dig, he realized how much he had to keep digging and the size of the hole he was making. He couldn't believe it."
Immediately after the find, Balestra contacted his high-end customers and received a $1 million offer from a buyer in China. Instead, he's decided to put the delicacy up for bid.
"If I sold it, I would lose about 60% in taxes to the Italian government. This way all the money will go to charities I choose." The proceeds of the sale will go to New York City's Citymeals-on-Wheels and the Children's Glaucoma Foundation in Boston.
A truffle this size could be very valuable to a restaurant as demand for the fungi continues to grow. But Balestra doesn't expect a restaurant to make the winning big. "Ninety-percent of the people who have shown interest in the truffle are private individuals."
Related: Why this whisky costs $38,000 a bottle
The auction starts at 9:15 a.m. in New York -- a strategically chosen time. "We wanted to make sure to include the Asia market," said Balestra. Bidding is expected to start at $50,000.