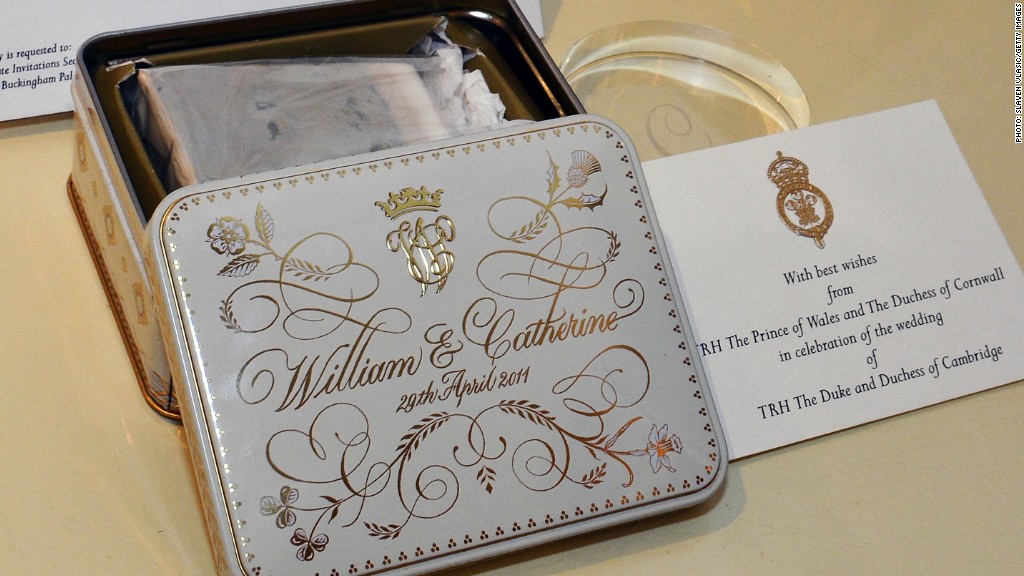 A slice of Prince William and Duchess Catherine's wedding cake sold at auction on Friday for an unexpected $7,500.
The fruit cake was given to guests at the royal wedding of Will and Kate in 2011, which one invitee sold to Julien's Auctions in Beverly Hills. The cake, which was eight tiers, took the baker five weeks to make and is said to peak in flavor 13 months after it was baked, comes in a tin along with a blank invitation to the wedding presented on the Queen's stationery.
The auction house was expecting the cake to go for between $1,000 and $2,000.
Several years ago, Julien's sold a piece of cake from the wedding of William's parents, Prince Charles and Princess Diana, for just over $6,000, according to the auction house's executive director Martin Nolan. The marital baked good was 27 years old at the time.
Related: 'Cowardly Lion' cosutme sells for $3.1 million
Friday's auction also featured five of Diana's dresses, which were expected to be auctioned off for between $60,000 to $100,000 each.
According to Nolan, Diana sold these dresses at auction in 1997, just a few months before she was killed in a car accident, at the suggestion of William, who told her she could donate the proceeds to charity. At the time, the dresses were sold for between $5,000 and $18,000, and have been kept in very good condition.
The five dresses sold for a total of over $458,000.