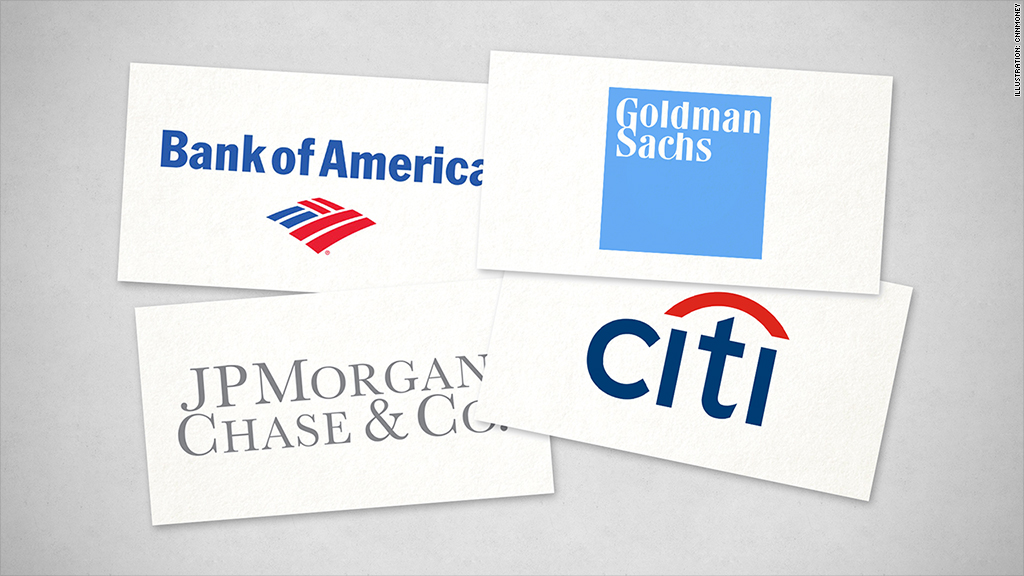 Big banks have taken many steps during the past few years to ensure that they have enough capital on hand in case of another financial crisis. But the Federal Reserve wants them to do even more.
The Fed unveiled a proposal Tuesday for rules that would force several large financial firms to boost the amount of capital they need.
The Fed is calling the new requirements "capital surcharges." The amount that the banks have to set aside would depend on how risky the bank is deemed to be by a set of criteria determined by the Fed.
The proposal would affect eight of the nation's largest banks. These financial firms are considered "systemically important" by the Fed and all have more than $50 billion in assets:
- JPMorgan Chase (JPM)
- Bank of America (BAC)
- Citigroup (C)
- Wells Fargo (WFC)
- Goldman Sachs (GS)
- Morgan Stanley (MS)
- Bank of New York Mellon (BK)
- State Street (STT)
These banks are already subject to fairly strict global regulations regarding capital, known as Basel III.
But the Fed thinks that its rules will (and should) be even more stringent.
In particular, the Fed is trying to make sure that large banks don't rely as much on certain types of short-term sources of credit known as wholesale funding. The Fed has expressed concerns that relying on wholesale funding could make these firms vulnerable to bank runs that could quickly threaten their solvency.
During a conference call with reporters, a Fed official said that the new rules will hopefully encourage the large banks to reduce the amount of risk they take on, which would make them less likely to be considered "too big to fail" in the event of another market meltdown like 2008.
The rules are set to phase in over a period of three years beginning in 2016. A Fed official said all eight banks are already on track to meet the new capital limits by the end of the phase-in period in 2019.
So the new requirements, if enacted, may not wind up having that big of an impact on the industry.
Nonetheless, several Fed officials on the call defended the proposal, saying it is necessary even after Basel III and actions taken by the banks themselves.
Wall Street didn't seem too concerned either.
Shares of all eight banks were lower Tuesday afternoon, but that was along with the broader market. And most of the banks moved off their lows as the day wore on.
BofA and Citi were the biggest losers, but that had more do to with company-specific news than the Fed's proposal. The CEOs of both banks made cautious statements about their fourth-quarter trading outlook at a Goldman Sachs conference Tuesday morning.