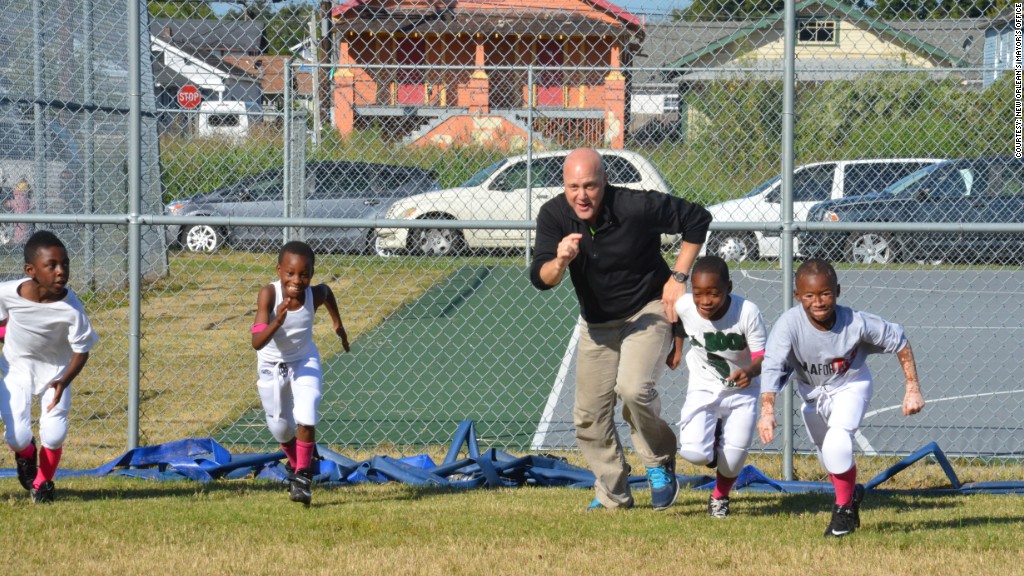 In the face of dwindling budgets and changing societal needs, the nation's mayors are using innovation to solve their most pressing problems. With support from Bloomberg Philanthropies, five mayors have deployed innovation teams to deliver creative solutions that improve the lives of their citizens.
Here, New Orleans Mayor Mitch Landrieu discusses what the grant meant for his city.
Few cities understand perseverance better than New Orleans. There's no other city in America that has had to recreate the intricate fabric of their lives like we're doing. And, while we've still got a long way to go, we're not only back -- in many ways, we're even stronger than we were before.
Still, when I took office in 2010, the prevailing model of government was failing to meet the needs of our citizens. We inherited a City Hall that was living far beyond its means, departments that didn't communicate effectively and agencies using outdated, burdensome polices.
Related: The most innovative cities in America
New Orleans needed big solutions, and big solutions come from big thinking. That's why we see tremendous value in our innovation team supported by Bloomberg Philanthropies.
The $3.7 million grant -- part of a pilot launched in 2011 -- has allowed us to activate a team of very smart people who think outside the traditional boundaries of government.
It wasn't hard to decide what the first assignment should be for our "i-team" -- we needed to reduce New Orleans' murder rate, which had been higher than any other American city our size for too many years. People in our community were being killed at alarming rates, and we could no longer rely on enforcement agencies alone to address the underlying issues.
The i-team took on the challenge of bringing together law enforcement, social service agencies and educators, along with all levels of government to create a robust, proactive plan to reduce murders.
We soon realized that much of what we assumed about violent crime in New Orleans was wrong. It was a commonly held belief that we didn't have a problem with groups and gangs, so policing and community intervention tactics weren't geared toward gang reduction. But that theory didn't hold water when we looked at the i-team's data.
In fact, the majority of murders in New Orleans were committed by a small and identifiable set of people in a few neighborhoods as the result of petty disputes. So in 2012, we developed NOLA FOR LIFE, our city's comprehensive strategy to reduce the number of murders.
2013 brought a 19% reduction in the murder rate from 2012, and the number of murders in New Orleans was the lowest recorded since 1985. Additionally, in the neighborhoods specifically targeted by NOLA FOR LIFE, there were 37% fewer murder victims and 33% fewer shooting victims in 2013.
Related: How Memphis is lowering crime and reviving neighborhoods
Ending murder in New Orleans will not be easy and it won't happen overnight. So we are moving forward to engage partners from every sector to change the culture of violence and enact policies that enable our young men to reach their potential.
Through several extensive studies, we found that 52% of African American working-age men in New Orleans don't have jobs. So we are implementing an Economic Opportunity Strategy to connect disadvantaged job seekers with some of the region's largest employers and anchor institutions.
Shaking up city government through innovation delivery isn't an easy task -- it has the potential to upend systems that have been in place for a long time and unveil challenges that have to be converted to opportunities. But courageous leaders with a commitment to run towards the fire can create longstanding change in their city using this model. And in the end, our citizens will have the benefit of a better government and better lives.
This is part of an exclusive series from CNNMoney, featuring op-eds from mayors who received grants from Bloomberg Philanthropies in 2011: Memphis' A C Wharton, Louisville's Greg Fischer, Atlanta's Kasim Reed and Chicago's Rahm Emanuel.