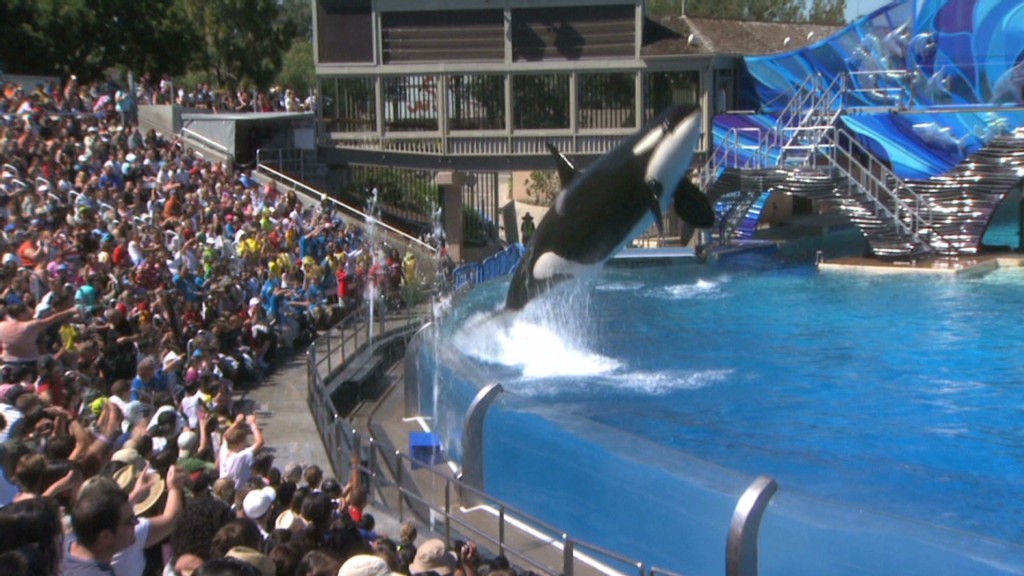 Seaworld's biggest fish is leaving the company.
On Thursday the company announced that CEO James Atchison will resign from his post effective January 15, 2015.
Atchison leaves with a hefty pay package, which includes a lump sum payment of more than $2.4 million.
He will also be allowed to vest his outstanding shares of Seaworld (SEAS), which are worth more than $8 million at the close of trading Thursday.
One source close to the company said it was time for new ideas on how to turnaround sagging performance.
2014 has been a rough year for the ocean-themed entertainment company.
The Orlando, Fla. company was already under increasing scrutiny after one of the park's killer whales killed a trainer in 2010.
A maelstrom of negative headlines followed the airing of "Blackfish" on CNN last year. The documentary painted Seaworld in a negative light, showing the history of killer whales in captivity and incidents of violence towards their trainers.
There was a sharp decline in attendance after Blackfish was aired.
SeaWorld said in its most recent earnings release that "negative media coverage" was still weighing on the business.
In November the company said visits were down more than 5% from the same time a year ago.
SeaWorld's stock has tumbled more than 50% since it first started trading in April 2013.
"Clearly 2014 has failed to meet our expectations," Atchison said on an earnings call.
The company said profits could fall as much as 16% for the year.