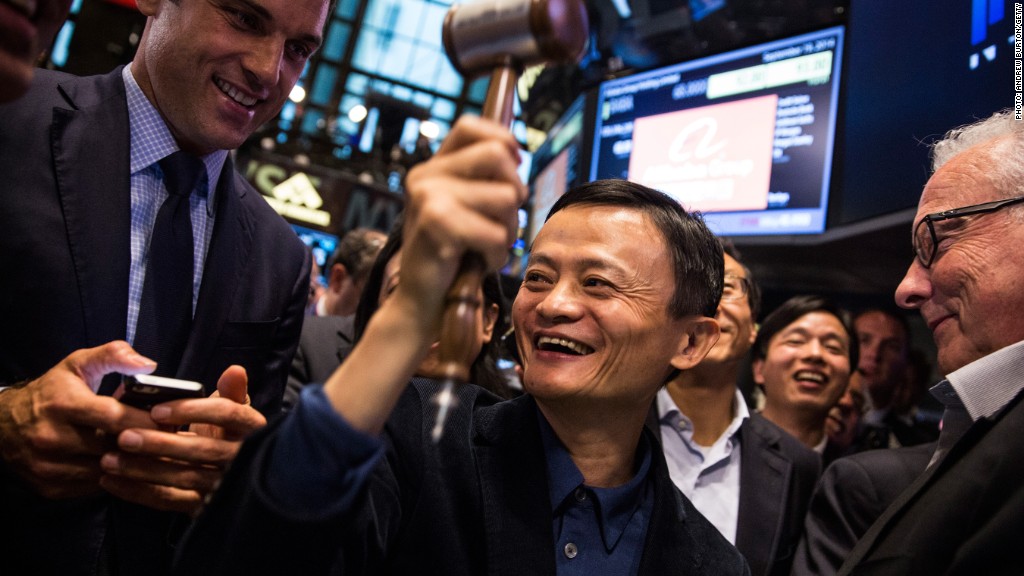 Think your 8% return this year in the S&P 500 was pretty good?
Alibaba (BABA) founder Jack Ma made more money than anyone this year, increasing his wealth by 173% -- a gain of $18.5 billion -- according to a list of the year's biggest winners and losers, from the research firm Wealth-X.
Ma, a former English teacher who started the Chinese online marketplace with $60,000, is now worth a total of $29.2 billion. His banner year is tied to Alibaba's IPO in September -- the biggest IPO ever.
Second on the winners list is Warren Buffett, whose savvy investing netted $13.5 billion so far in 2014 -- a gain of 23%. The Berkshire Hathaway (BRKA) chairman is now worth $72.6 billion.
Bill Gates, the world's richest man with a fortune of $83.1 billion, comes in at No. 3. Gates made $10.5 billion this year. While Gates founded Microsoft (MSFT), most of his money now comes from a variety of investments, including Buffett's Berkshire Hathaway (BRKA).
Rounding out the top five are Facebook (FB) founder Mark Zuckerberg, who made $8.4 billion, and Swiss telecom magnate Patrick Drahi with a $5.1 billion gain.
The biggest losers
It was a bad year to be a Russian energy tycoon.
Leonid Mikhelson, the biggest shareholder in Russian natural gas firm Novatek, saw his net worth go from $17 billion to $10 billion -- a decline of 41%.
His ill fortune was attributed to plunging oil prices, Russia's free-falling currency and Western sanctions imposed over the trouble in Ukraine.
Related: Who loses if Russia implodes
The second biggest loser is Japanese businessman Masayoshi Son, head of Softbank, the parent company of U.S. telecom firm Sprint (S). Son lost $5.9 billion last year, or 31% of his fortune.
Casino owner Lui Chee Woo came in third, losing $5.5 billion. He's now worth $14.1 billion.
Amazon's (AMZN) Jeff Bezos was fourth. He also lost $5.5 billion -- or 16% of his fortune -- and is now worth $28.9 billion.
Casino owner and prominent Republican donor Sheldon Adelson came in fifth. He lost $5.2 billion, or 15%, and is now worth $30.1 billion.