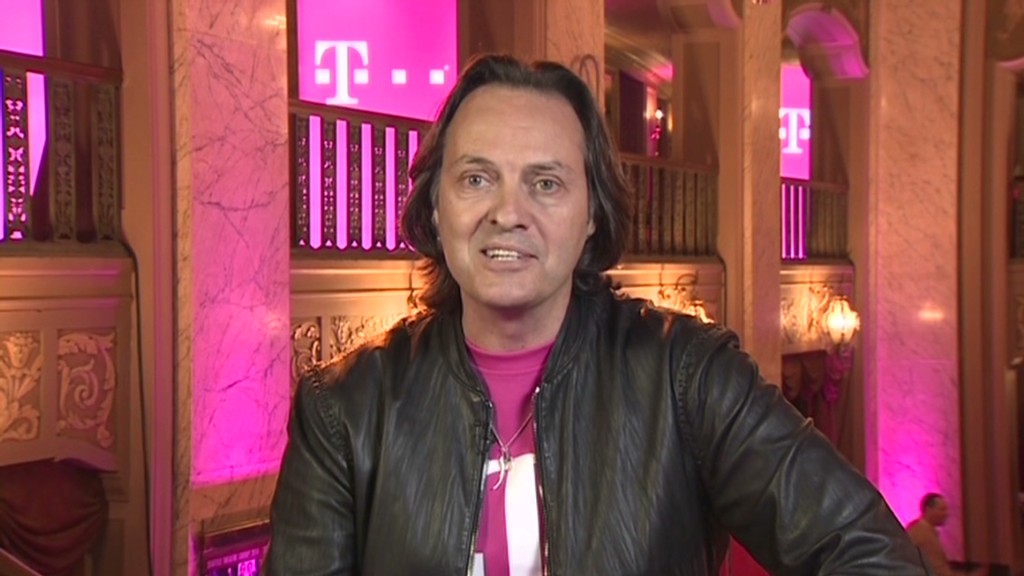 T-Mobile unveiled its latest disruptive move: It's letting you roll over your unused data from one month to the next.
"If you buy data, it's yours. Roll it over," said T-Mobile CEO John Legere during a live-streamed interview with Yahoo News. "Everybody, come and get it. Especially if you're with the bad guys. We're waiting for you."
T-Mobile (TMUS) will roll over whatever data its customers don't use from month to month. Data plans range from 1 GB to 11 GB a month.
On top of whatever data plan T-Mobile customers already pay for, the carrier said it will also give customers 10 free additional gigabytes of data to roll over.
The catch? Rollover data only lasts a year. For example, the data you didn't use in January 2015 expires in January 2016. That can make T-Mobile's plan a bit tricky for customers to keep track of -- it's not clear exactly how January's unused data will be different from February's unused data. Expect some weird math.
The change will affect most of T-Mobile's 50 million customers. Only 20% of them use T-Mobile's unlimited data plan, Legere said.
Legere criticized AT&T and Verizon for "playing the doubling game," in which they offer you more data, "but at the end of the month, it's not yours."
Related: Switch to Sprint, cut your bill in half
For those worried about the opposite -- using too much data -- T-Mobile has already eliminated overage fees, those expensive and nasty penalties that kick in when you use more than your allotted monthly data plan.
Instead of being charged higher fees after you hit your cap, your phone's high-speed 4G LTE connection gets throttled back to 2G speeds.
T-Mobile's new data rollover policy is the eighth installment of T-Mobile's "uncarrier" strategy. T-Mobile has set its sights on AT&T (T) and Verizon (VZ) by becoming the populist, customer-friendly carrier.
First, T-Mobile eliminated contracts, letting customers pay lower monthly rates and buy their own phones. Then came the "Jump" program, allowing customers to upgrade phones twice a year. Then T-Mobile killed roaming fees and slashed per-minute and text charges.