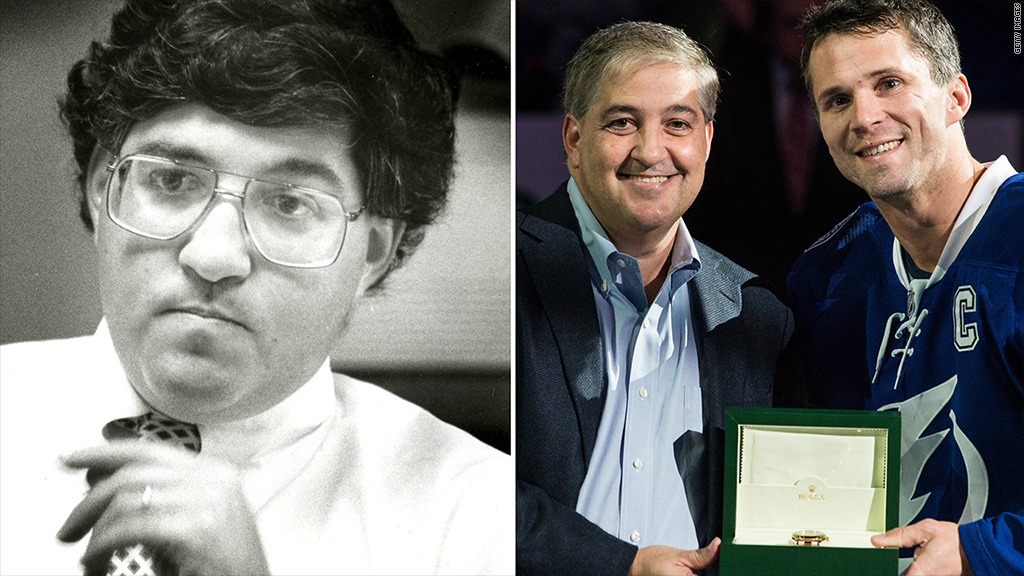 Jeff Vinik is a hard person to describe in one line.
For much of his 20s and 30s, he was a rock star stock picker who ultimately ran Fidelity's flagship Magellan fund, the biggest mutual fund in the world in the 1990s.
At age 37, he said enough is enough and walked away from his job after a tough year for the fund.
But the lure of finance was still too strong and he ended up starting a hedge fund that amassed roughly $6 billion in assets.
Then he said enough of that and returned the money to investors.
Related: Meet the new 'bond king'
He and his family left the Northeast for Florida where, at age 51, he bought the Tampa Bay Lightning ice hockey team.
"I used to always be head down -- lot of reading," Vinik told CNNMoney of his days as a stock analyst. "Now I'm head up, meeting people and working with a team."
One of the best perks of his life today is that he can go to 41 home games for work purposes and his wife can't veto it.
Now he's 55 and re-inventing himself yet again as a real estate mogul.
On Wednesday, he announced a $1 billion construction project along the waterfront in downtown Tampa.
The plan is to have everything from corporate offices to residential space to a nice parking facility. The University of South Florida's Medical School is already on board to build a new facility.
"We have an incredible blank canvas here to build a gathering spot for the people of Tampa," he said.
Related: These people too months off and it paid off big time
The project even has the backing of Bill Gates' investment fund Cascade, among other stakeholders.
After buying the hockey team, Vinik began to acquire land around the arena, seeing it as both a good financial and quality of life investment.
"As you get older, you do become more philanthropic and community minded," he said. "Thirty years ago, I wouldn't have envisioned doing this."
He's optimistic that other businesses and executives will follow in his path -- at least in his flight South.
Related: The best cities for retirees
"The quality of life down here is absolutely fantastic," he says. "How nice it is to live in good weather and live in an area without too much traffic," He notes that the average age in the county where Tampa is located isn't much higher than the national average.
In other words, Florida isn't just one big retirement community.
His advice to others still in the daily desk job grind is that it's never too late and that the skills from finance transfer easily.
"I've been an analyst my whole life -- an analyst of the stock market. Then of hockey and the sports industry. Now [I'm] an analyst of the real estate industry," he said.