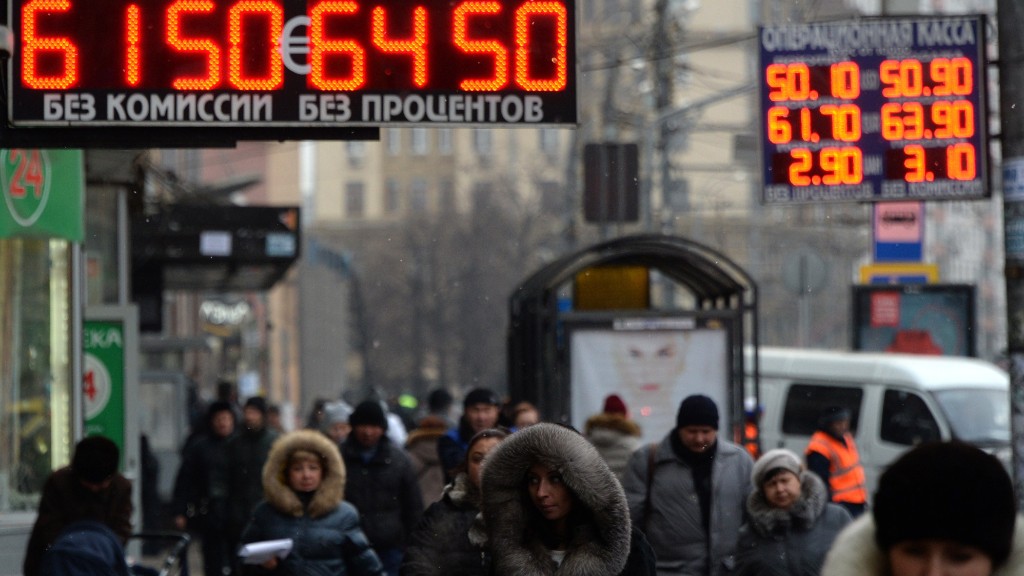 Russia's economic turmoil is already spreading to companies in the West and many are bracing for an even bigger blow to earnings.
A currency crisis and plunging oil prices have slammed the economy and damaged consumer confidence. If oil prices fail to recover, Russian GDP is expected to shrink by almost 5% next year.
That's bad news for plenty of Western companies with heavy exposure to Russia.
The currency collapse has driven up prices for Russians. Some shoppers have been rushing to buy before prices go any higher, but ultimately, spending on many Western consumer brands will slow.
And the wild swings in the ruble have already prompted companies such as IKEA, GM (GM) and Apple (AAPL) to suspend some business in Russia.
Related: Putin blames the West for Russia's misery
Here are the Western brands taking the biggest hit from the Russian crisis:
Ford
It's been a tough year for automakers in Russia. Car sales are down about 12% so far this year, according to the Association of European Businesses. Ford (F) has been one of the hardest hit. Its sales slumped 40% in the first 11 months of the year, according to the AEB.
The U.S. automaker was forced to cut about 950 jobs at its Russia joint venture in April.
Volkswagen
It's a similar story for the German car giant. Volkswagen (VLKAF) halted production at its plant in the Russian city of Kaluga for 10 days in September, blaming the souring economy.
The group's main VW car brand saw Russian sales fall 20% between January and November, compared to the same period in 2013, AEB data shows.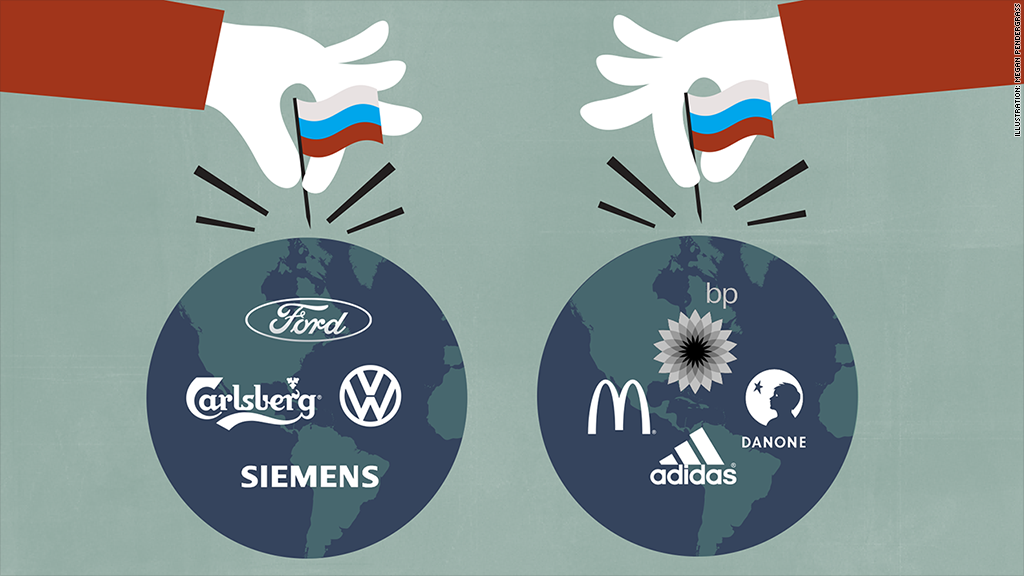 Carlsberg
The Danish beer maker has issued two profit warnings this year due to slowing Russian demand. Beer market volumes fell by as much as 7% in the first six months of 2014, the brewer said, hit by the uncertain environment, weak growth and bad weather.
Carlsberg (CABGY) is heavily dependent on sales in Russia, where it is the biggest brewer supplying local brands such as Baltika. Its shares are down more than 20% this year.
Adidas
Sluggish consumer spending has forced the German sportswear maker to shut stores and scale back expansion plans in Russia.
Adidas (ADDDF) is one of the biggest retail brands in the country with 1,100 stores. Chief Executive Herbert Hainer said last month that weak consumer sentiment and the falling ruble was hurting its business.
BP
Crumbling oil prices and sanctions have dealt a double blow to oil majors in Russia. BP (BCONQ) owns a large stake in Rosneft, Russia's biggest oil company,
Rosneft has lost access to U.S. and European sources of finance, as well as technology and services to develop deep water, Arctic or shale oil deposits. It blamed an 86% fall in third quarter profit on the falling ruble and lower prices for Russian Urals crude.
BP shares are trading down 17% this year.
Related: Russia has cash to prevent economic collapse
ExxonMobil
ExxonMobil (XOM) made an Arctic oil discovery with Rosneft earlier this year. But the firm can't push ahead with the project until sanctions imposed over the Ukraine crisis are lifted.
Total
The French energy giant has also had growth plans clipped by the West's trade war with Russia. The firm shelved plans for a shale exploration venture with Russia's Lukoil due to the sanctions.
McDonald's
Earlier this year, Russian officials forced the fast food giant to close 12 restaurants because of sanitary violations. The move was widely believed to be politically motivated.
All restaurants have now reopened but McDonald's (MCD) said "very weak results" in Russia worked to drive European sales lower in November.
Danone
French food conglomerate Danone (DANOY) is a big player in Russia. The market represents 11% of the group's annual turnover and was the top ranking country by sales in 2013.
Rising prices are a growing worry for the company in Russia. The company said operating margins fell sharply in the first half of this year due to higher milk prices.
Siemens
Russia is also a major market for the German engineering titan, and sales are suffering. Siemens' (SIEGY)revenue from the country dropped about 14% in fiscal 2014, compared with the previous year.
European banks
An escalation of Russia's financial woes could create headaches for Western banks. European lenders are most exposed to the country, according to the Bank for International Settlements.
European banks had $155.9 billion in outstanding loans to Russia at the end of June. That's about 1% of total European bank lending. French banks have lent the most at $47.8 billion, followed by Italy with $27.7 billion. U.S. banks have lent a relatively modest $26.1 billion.
Among the major banks tied up in Russia are France's Societé Generale (SCGLY) and Italy's UniCredit (UNCFF).