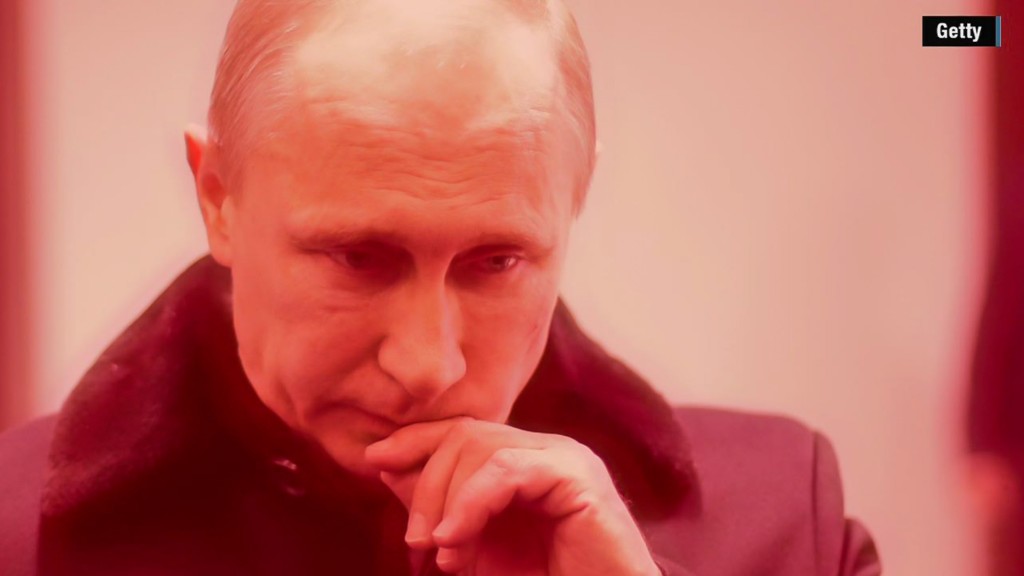 President Vladimir Putin blamed "external factors" such as oil prices and sanctions for Russia's financial crisis Thursday, but admitted he should have done more to diversify the economy.
Speaking to journalists at his annual press conference, Putin said it could take Russia two years to overcome the tough economic situation facing the country.
Putin said sanctions -- imposed by the West over Moscow's annexation of Crimea and its support for separatist rebels in eastern Ukraine -- were responsible for 25% of Russia's economic woes.
While he was speaking, EU leaders approved a new round of sanctions on Crimea, banning any investment in the area.
Related: Don't panic like it's 1998
Putin's optimism about the economy's ability to pull through is based on an assumption that demand for Russian oil will grow again.
"That is a fact of life," he said.
Half of Russian government revenue comes from oil and gas exports. If oil prices stay at $60 a barrel, the Russian economy is expected to shrink by almost 5% in 2015.
Putin said it was possible that the U.S. could be conspiring with Saudi Arabia to depress oil prices as a way of hurting Iran, Russia and Venezuela.
"We all see the lowering of the oil price. There's lots of talk about what's causing it. Could it be the agreement between the U.S. and Saudi Arabia to punish Iran and affect the economies of Russia and Venezuela? It could."
Asked about the collapse in the ruble -- the currency has lost 45% against the dollar this year -- Putin said the central bank could have acted "sooner and in a harsher way."
The bank's drastic interest rate hike last week was adequate, he said, adding that he expects rates to head lower "sooner rather than later."