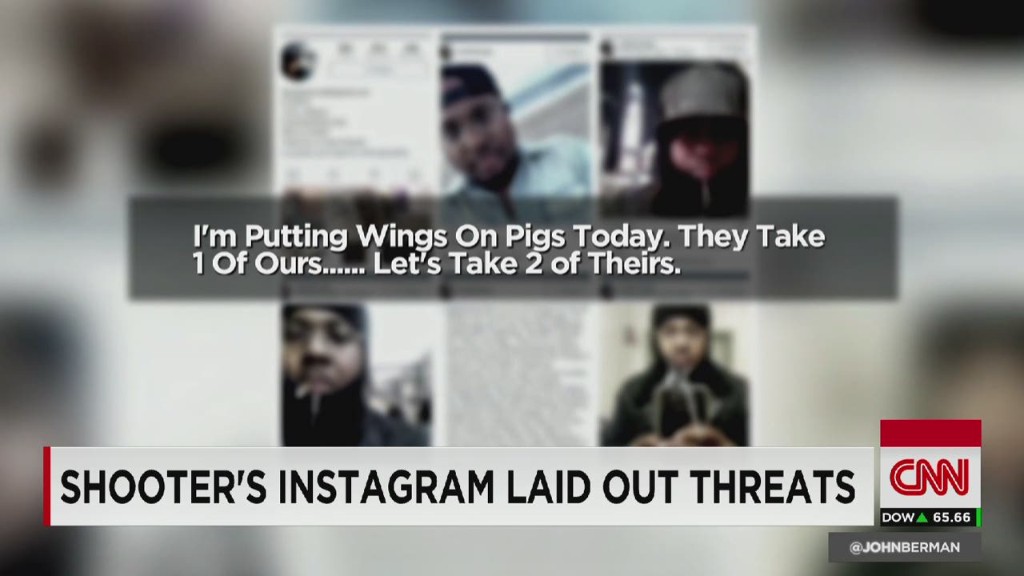 On Instagram, #shootthepolice is no longer searchable. On Twitter, a hashtag is still visible that groups posts together inciting violence against cops.
Here's one post from Twitter: An image of a gun with the message, "Speak to cops in a language they understand." There are also videos of police altercations with civilians.
The posts show the challenges social media companies face.
Before gunning down two New York cops this weekend, Ismaaiyl Brinsley posted on Instagram: "I'm putting wings on pigs today...they take one of ours, let's take two of theirs."
It was one of a number of digital posts by Brinsley on Instagram and Facebook, which owns Instagram.
Brinsley's Instagram account was removed soon after the shooting.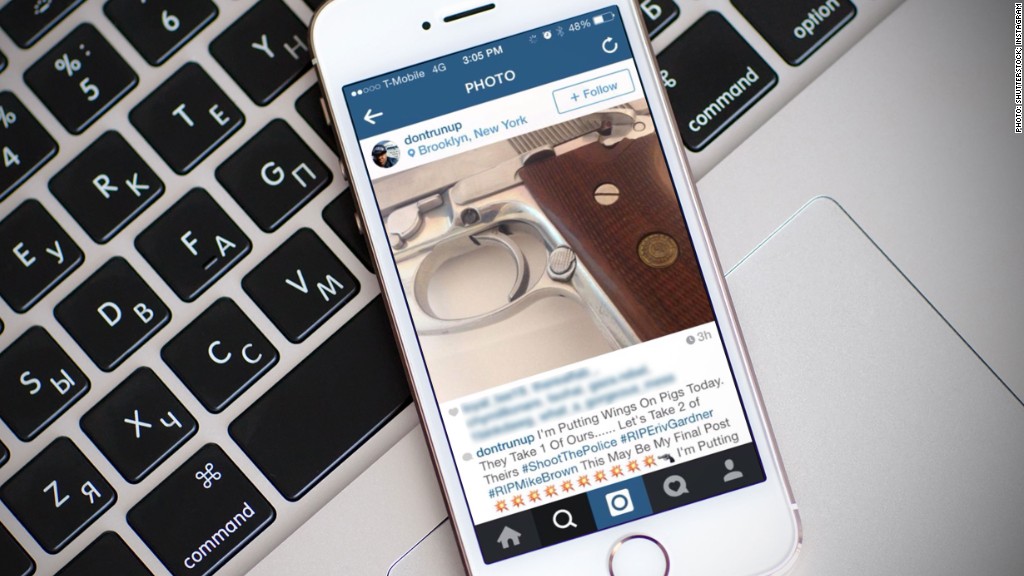 Law enforcement is currently combing through Brinsley's social media posts, and actively investigating some who posted responses to his posts, according to sources from the New York Police Department.
Sources at the NYPD say that investigation led them in the direction of a gang member threatening violence against the police on Facebook. The post depicted a gun pointed at a cop.
As tension mounts following the deaths of Michael Brown in Ferguson, Missouri, and Eric Garner in Staten Island, N.Y., social media has become a platform for a discussion of racial tension. In addition, there have also been threats made toward police.
Cops are using social media to identify those threats. Sources from the NYPD say they do not actively monitor users unless a specific threat has been made.
Social media companies say they are cooperating with law enforcement.
"Our deepest thoughts and sympathies go out to the family and friends of the two police officers who were shot and killed in New York," an Instagram spokesperson said in a statement. "There is no place for this content within our community."
Instagram reserves the right to make hashtags unsearchable, if they are associated with content that violate its terms of service.
Twitter said that it does not turn off hashtags based on the content or stop people from searching for those hashtags. But it does review reports from users of discussions that go against its policies, which prohibit "direct, specific threats of violence against others." It will also block people from posting to Twitter.