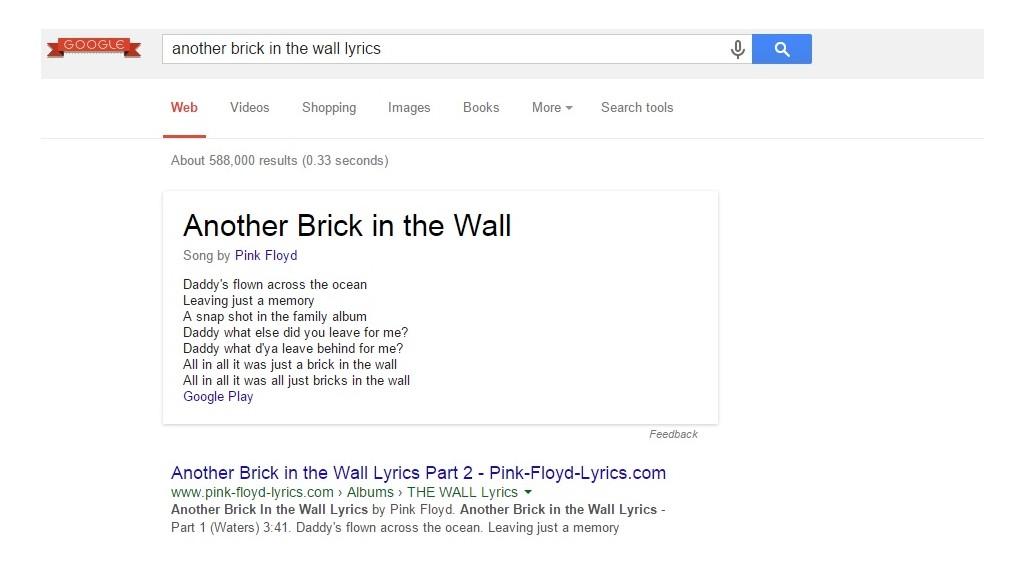 Google is starting to show the full text of song lyrics in search results.
It's a clean and quick solution to the current messy method of looking up lyrics. Song lyric sites are notoriously slow, and they inundate you with pop-up ads.
The feature, which rolled out last week, seems to be in testing mode. Google doesn't display text for most songs. For instance, it only works with 4 of the top 10 classic rock songs considered the best of all time: "Another Brick in the Wall (Part II)," "Freebird," "Layla" and "Stairway to Heaven."
Google's song results also link back to Google Play, where you can buy and download the song.
By displaying the full text of songs, Google could doom sites like azlyrics.com and metrolyrics.com.
A Google (GOOG) spokesman provided an enigmatic comment about its new feature -- a reference to Led Zepplin's "Stairway to Heaven."
"There's a feeling you get when you turn to a song and you know that the words have two meanings. Well it's whispered that now if you go search the tune, maybe Google will lead you to reason. Ooh, it makes you wonder..."
None of the top lyric websites responded to requests for comment.