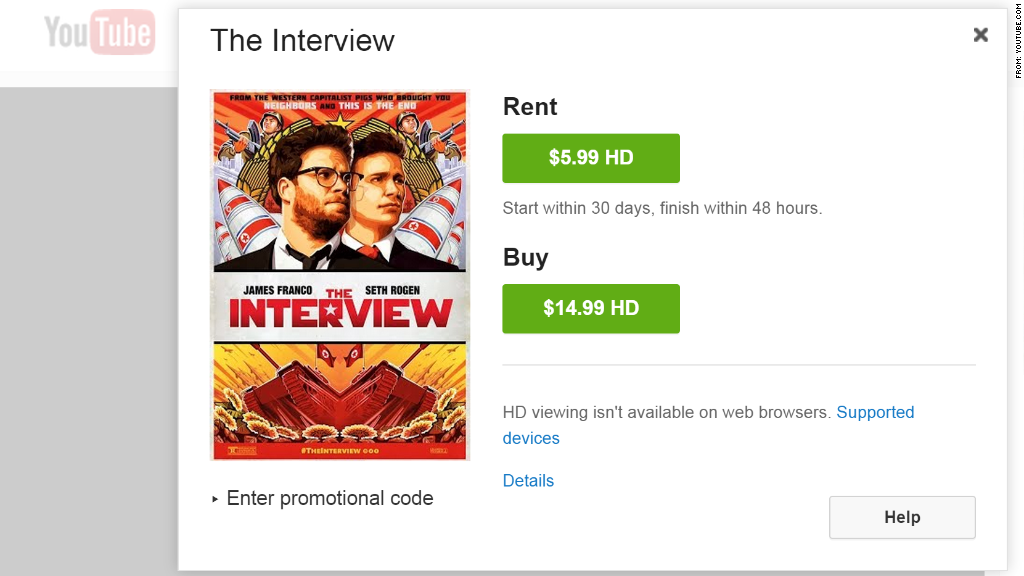 Good or bad, what really matters is that "The Interview" got a chance to exist at all.
Sony Pictures created an unprecedented event on Wednesday by releasing the controversial comedy on the Internet ahead of its Christmas arrival in theaters.
Partly out of patriotic duty, partly out of fan-boy curiosity, I rented the movie on YouTube for $5.99 right after it came online at 1 p.m. ET.
Truth be told, I was a bit hesitant to hand over my credit card, given the cyber-attack against Sony and persistent threats from hackers. (There was no real reason to worry, however.)
Renting the movie was a snap -- YouTube made "The Interview" easy to find, and moments after I paid, a receipt was sent to me via email.
Fifteen minutes in, the movie was streaming without any incident. There was no choppiness, no sluggishness, and it felt just like watching a movie on Netflix or HBO.
As for the experience itself, I've never seen anything like it.
The 1 p.m. release had the feel of a communal event, with other reporters live-tweeting and live-blogging the whole thing -- an instance of the "social TV" phenomenon applied to film.
"BuzzFeed newsroom at a standstill, transfixed, watching 'The Interview,'" BuzzFeedBiz deputy editor Tom Gara tweeted, tongue at least partly in cheek. "This is our moon landing."
Knowing that some of the cast and crew members were also participating also added a whole new level to the viewing.
"Take a picture of yourself watching it and I'll "LIKE IT," one of the film's stars James Franco tweeted during the early afternoon.
Truth be told, it was hard to separate "The Interview" the movie from the hacking news and freedom of expression issues surrounding it.
Would I have cared about the movie at all, were it not for the cyber-attack, the hackers' threats, the resulting cancellation last week, and then its resurrection this week?
Maybe not.
In the end, "The Interview" turned out to be what it was originally intended to be: a so-so gross-out comedy by Rogen and Franco.
However, the absurdity of the moment, along with the feel of a new viewing experience coming together, made it something quite memorable.