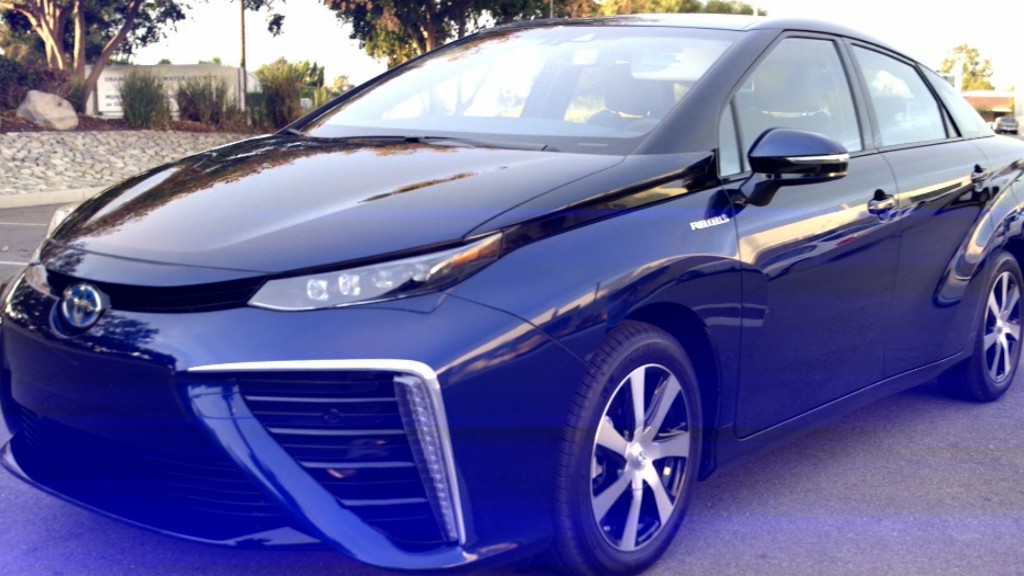 Toyota said Monday that it will share thousands of fuel cell patents with competitors, a move designed to kick-start the commercial production of hydrogen-powered cars.
The automaker announced the decision, which covers some 5,680 patents, at the Consumer Electronics Show (CES) in Las Vegas. Many of the patents were used in the production of the Toyota Mirai, the company's new hydrogen fuel cell car.
Nearly 2,000 of the patents are related to fuel cell stacks, 290 are associated with high-pressure hydrogen tanks and 3,350 are used with fuel cell system software controls. Others are used in construction of hydrogen-refueling stations.
"By eliminating traditional corporate boundaries, we can speed the development of new technologies and move into the future of mobility more quickly, effectively and economically," said Bob Carter, an automotive operations executive at Toyota.
Related: Toyota's futuristic, freaky fuel-cell car
Toyota's move follows a similar decision by Tesla Motors CEO Elon Musk, who announced in June that he would not take legal action against anyone who used Tesla (TSLA) technology in good faith. The idea was that opening the patents to a wider audience would help boost the electric car industry at large.
Toyota (TM) appears to be looking to create similar momentum -- but for hydrogen systems. The company said that it would request, but not require, companies that license its patents to share their own fuel cell patents in return.
The Mirai -- which means "future" in Japanese -- went on sale late last year in Japan. It will be offered later this year in the U.S., but initially only in California. The car will not be cheap, with prices starting at $57,500. In California, after federal and state incentives, that translates to $44,500.
Related: Tesla in Britain - Fit for royalty?
Hydrogen fuel cell vehicles use compressed hydrogen gas instead of gasoline. A fuel cell stack in the car then combines that hydrogen with oxygen from the atmosphere in a process that produces electricity to power the vehicle's motor, with water being the only byproduct of the reaction.
As with plug-in electric cars, you get no nasty emissions. But it takes only a few minutes, not hours, to "recharge" for a full 300 mile range.