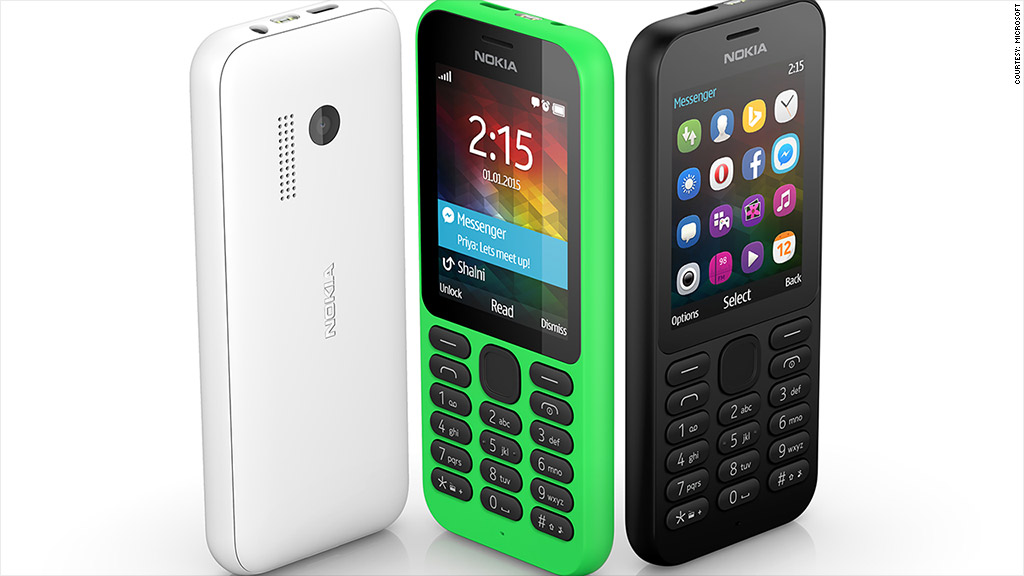 Microsoft has unveiled the cheapest smartphone in the world.
Microsoft (MSFT) is launching the Nokia 215 for just $29. The technology company calls the 215 the "most affordable Internet-ready phone."
This follows on the heels of Nokia's $20 cell phone, released last year. But unlike the Nokia 105 cell phone, the Nokia 215 smartphone has Internet connectivity and a camera.
Despite its price, the Nokia 215 gets users online via the Opera Mini browser, Bing search, MSN Weather, Twitter (TWTR) and Facebook (FB). The phone also comes with Facebook's Messenger service for instant notifications.
But it won't be available in America. The Nokia 215 is getting released into "select markets" in the Middle East, Africa, Asia and Europe during this first three months of this year.
Related: Zuckerberg's big idea: The 'next 5 billion' people
"With our ultra-affordable mobile phones and digital services, we see an inspiring opportunity to connect the next billion people to the Internet for the first time," said Jo Harlow, vice president of Microsoft Devices Group, in a press release.
The smartphone will be available in bright green, black and white. The battery lasts 29 days on standby -- an absolute must for some customers around the world who have infrequent access to electricity.
Microsoft, Samsung and other smartphone makers have been racing to make smartphones more affordable for people in developing nations. As smartphone sales begin to cool off in western countries, cell phone companies have looked to fast-growing emerging regions for growth.
Last year, Mozilla announced plans to sell a $25 smartphone running Firefox OS, but it hasn't yet been released.