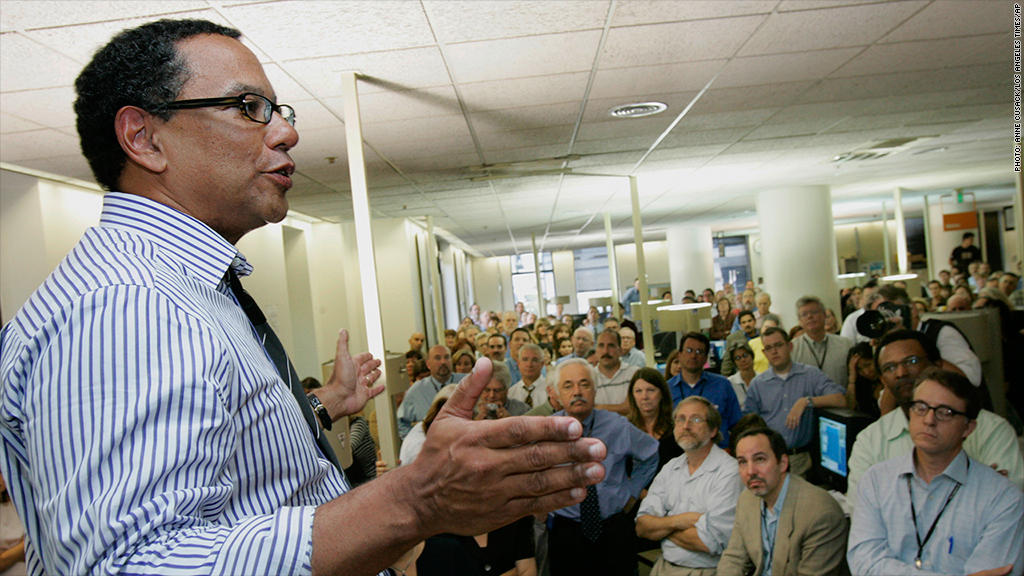 Coming soon to the New York Times: New international markets, a revamped strategy for the newspaper's mobile apps, and -- controversially -- a closer relationship between the newsroom and the business side.
Maybe advertiser sponsorships of regular features, too -- something that's been previously avoided by the Times.
The plans were spelled out by the newspaper's executive editor, Dean Baquet, in a 1,400-word memo to staff on Tuesday. With the memo, Baquet sought to reassure a newsroom roiled by recent layoffs and buyouts as well as continuing business side struggles.
"We will fix the things the buyouts broke," Baquet said, acknowledging widespread concerns about the effects of the recent employee exodus.
Related: New York Times closes out rough 2014
Baquet also provided a glimpse at major changes coming to the newsroom. He wrote about a recently created "audience development department," which is a foreign language for some old-school journalists.
The department will not "chase clicks," he assured the staff, but will instead "expose as many people as possible" to the Times' work.
"If we are aggressive in making our journalism widely available, and resolute in doing unmatched coverage, we will have more impact on the world, and draw new subscribers and advertisers," he said.
Speaking of advertisers, Baquet said he has been working more closely with the newspaper's ad salespeople, a partnership that he indicated could lead to regular, ad-sponsored features.
"This is tricky territory, but some of the best news organizations in the world have already navigated it," Baquet said.
He said web video will remain a priority, partly because video appeals to advertisers.
And he spoke of "compelling possibilities" to grow international readership on the web, adding that "We are trying to decide which markets to jump into first, and how to go about doing it."
Related: Have digital subscriptions peaked at the NYT?
The Times' pioneering but difficult transition to digital journalism has been well-documented. An internal report obtained last year by BuzzFeed detailed the Times' struggles on that front, warning that new media outlets like Vox and the Huffington Post had outpaced the storied newspaper.
Baquet also addressed the newspaper's rough go with mobile apps in 2014. Although he touted the critical praise for NYT Now, an app catering to young people that offers a condensed version of the paper, Baquet conceded that it "was not a financial breakthrough."
But Baquet did not wave the white flag, either. He said the Times is still trying to turn NYT Now into a "financial success," all while "taking the best features of NYT Now and blending them into the core app."
He also praised NYT Cooking, a free app that launched last September. With more than eight million web users and more than 300,000 downloads, the Cooking app could "be a template for the digital future" for the Times' features sections, according to Baquet.