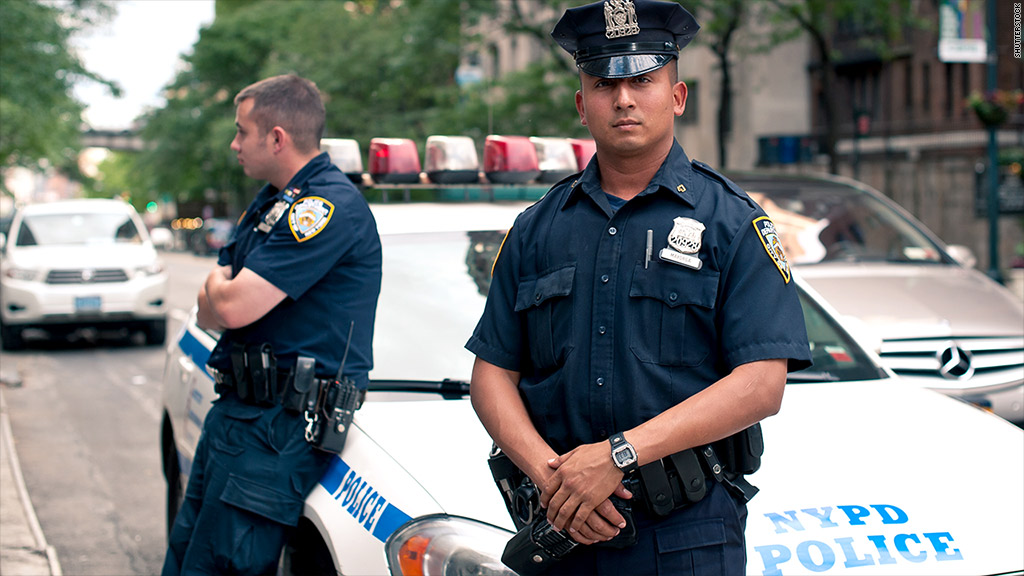 Law enforcement isn't usually considered a high-paying field. But just how much do cops get paid to put their lives on the line?
The median annual pay for police officers was $56,980 in 2012, according to the most recent figures from the Bureau of Labor Statistics.
That's much higher than the median wage for all occupations, which is $34,750, according to BLS. Not too shabby. But of course police work is considered a dangerous field, and getting shot at is an occupational hazard.
Related: Most jobs pay under $20 an hour
The pay can vary a great deal, depending on job responsibilities and geographic location.
Detectives make significantly more ($74,300) than the average cop or sheriff patrol officers, who make $55,270, according to government figures. Transit and railroad police make $55,210, while fish and game wardens make $48,070.
There's also a lot of range between salaries in different parts of the country. In San Francisco, one of the least affordable cities in the country, cops get paid the most to reflect the cost of living, with an annual mean wage of $99,000. Meanwhile, cops in rural Mississippi earn the least: $29,870.
There's also a lot of range depending on how long a cop has been on the job. Members of the NYPD are paid $46,288 during their first year on the force. But the pay jumps every year or half-year, reaching $90,829 at the five-and-half year point.
There are other benefits, too, according to BLS: "Many agencies provide officers with an allowance for uniforms, as well as extensive benefits and the option to retire at an age that is younger than typical retirement age. Paid overtime is common."