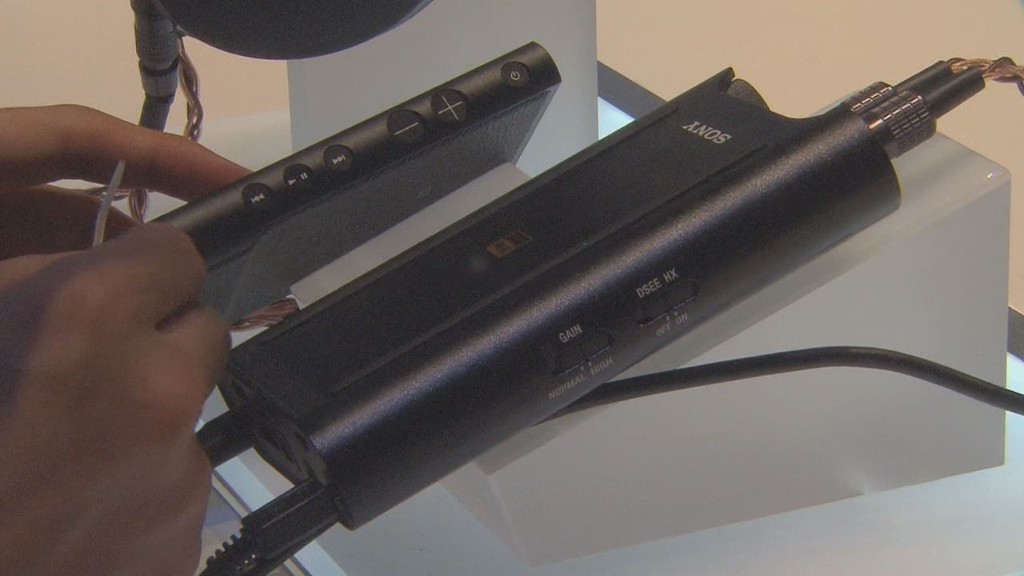 If you are a music fanatic and money is no issue, you might want to consider a Sony Walkman. Seriously.
Sony's new ZX2 Walkman costs $1,119.99, and it plays music at a super-high resolution. That means songs on Sony's new Walkman sound more life-like than the typical CD, MP3 or streaming media file, which are compressed to fit into a smaller, downloadable package.
Sony (SNE) says the new Walkman comes with audio technology that "can reproduce master quality recordings just as the artists originally intended." The company also claims that the Walkman makes regular, non-high-resolution music files sound better.
"The new Walkman ZX2 is a great example of the quality of our high-res audio offerings," said Mike Fasulo, president of Sony Electronics USA, at the Consumer Electronics Show in Las Vegas. "This Walkman is tailored for outstanding sound, and every piece of material and component has been crafted to realize the ultimate high-res audio experience on the move."
For all its technical marvels, the new Walkman curiously runs "Jelly Bean," a version of Android that came out in July 2013. New Android devices are running software that is two generations ahead of that.
But the Walkman's 128 GB of storage is pretty spacious. Even though the music files are larger, that's enough space to hold just fewer than 2,000 songs. And it comes with a micro SD card slot for even more storage. It is Wi-Fi capable and has 60 hours of battery life.
The Walkman ZX2 will be available this spring. It will go toe-to-toe with other high-resolution portable music offerings, including Neil Young's Pono player and music store.
Related: Happy 35th anniversary, Walkman!
Rebranding the Walkman as a high-resolution media player is Sony's umpteenth attempt to resuscitate the iconic brand. The Walkman never went away, though it has faded from the spotlight. Over the past decade, Sony has released Walkman-branded headphones, MP3 players and phones.
The original TPS-L2 Walkman debuted on July 1, 1979. The portable cassette player revolutionized how people listen to music. The Walkman wasn't the first of its kind, but it was the first affordable and manageable portable music player -- others like the German Stereobelt were too clunky and expensive, so they never took off.
The Walkman continued to sell well even through the CD era. Innovations like the 1981 Walkman II -- barely bigger than a cassette tape -- and the 1984 Discman helped Sony stay on top of the portable music world. But sales began to plummet soon after Apple unveiled the iPod in 2001 and digital downloads began to dominate.