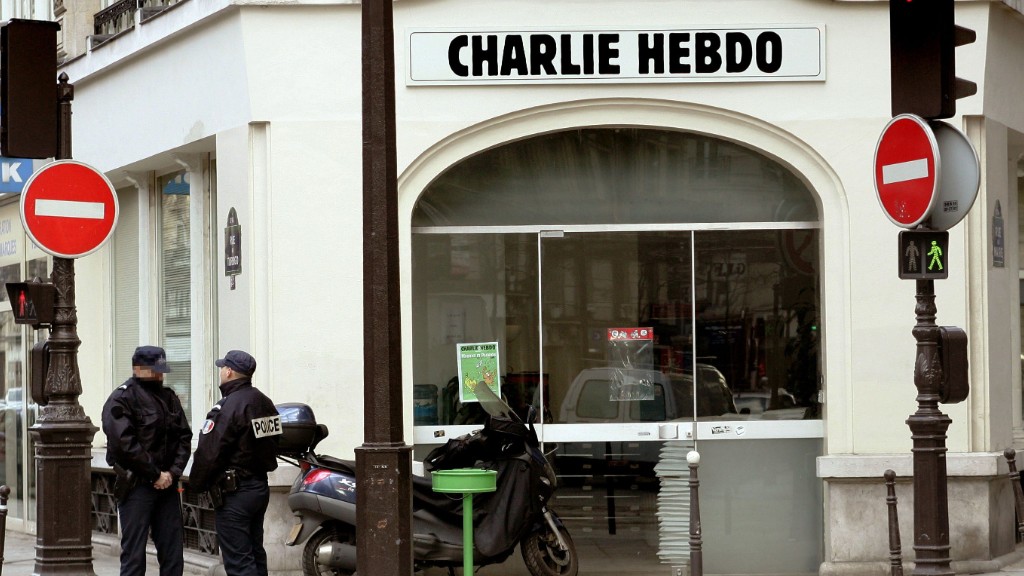 The attack on a satirical newspaper in Paris that left at least 12 people dead has prompted an immediate show of solidarity in the global media community.
Several news outlets even republished some of the controversial cartoons that may have motivated the killings.
The newspaper, Charlie Hebdo, has earned a reputation for skewering a number of different religions, including Islam. Its final tweet before masked gunmen opened fire on its offices on Wednesday depicted the ISIS leader Abu Bakr al-Baghdadi coupled with the caption, "And, above all, health."
The Paris-based news organization Agence France-Presse announced that its staff throughout the world would observe a minute's silence at 12:30 p.m. Eastern Wednesday "in solidarity" with the satirical newspaper.
In a statement posted on Twitter, Wikileaks editor-in-chief Julian Assange said the "world must now avenge Charlie Hebdo by swiftly republishing all their cartoons."
"Censorship attacks are a losing move," Assange added.
Jacob Weisberg, editor-in-chief of the Slate Group, agreed.
"Best response to #CharlieHebdo attack -- other than catching and punishing killers -- is to escalate blasphemous satire," Weisberg tweeted.
The Committee to Protect Journalists issued a statement strongly condemning the attack.
Robert Mahoney, the Committee's deputy director, called on journalists to "stand together to send the message that such murderous attempts to silence us will not stand."
Salman Rushdie, who became the subject of an Iranian fatwa following the publication of his book "The Satanic Verses," was characteristically critical of religion in his response to the attack.
"Religion, a medieval form of unreason, when combined with modern weaponry becomes a real threat to our freedoms," Rushdie said. "This religious totalitarianism has caused a deadly mutation in the heart of Islam and we see the tragic consequences in Paris today.
"I stand with Charlie Hebdo, as we all must, to defend the art of satire, which has always been a force for liberty and against tyranny, dishonesty and stupidity," he continued. "'Respect for religion' has become a code phrase meaning 'fear of religion.' Religions, like all other ideas, deserve criticism, satire, and, yes, our fearless disrespect."
The nonprofit group Reporters Without Borders said it is "deeply choked by this deadly attack."
The author and historian Simon Schama took to Twitter to celebrate Charlie Hebdo's work.
"Satire was the father of true political freedom, born in the 18th century; the scourge of bigots and tyrants," he said. "Sing its praises."
Writing for The Guardian, Simon Jenkins invoked the recent threats surrounding the Seth Rogen and James Franco film "The Interview" in defending the role of satire.
"There can be no doubt that the magazine Charlie Hebdo was testing the boundaries of taste and religious tolerance," wrote Jenkins. "But that is the burden freedom of speech in a democracy has to bear. The US bore it recently with its satire on North Korea's leader; it was the risk Charlie Hebdo took, and knew it was taking."
A number of journalists on Twitter recirculated a 2012 cartoon from The New Yorker's Bob Mankoff.
"Please enjoy this culturally, ethnically, religiously, and politically correct cartoon responsibly. Thank you," read the cartoon's caption, which was placed directly above an empty box.
Conservative radio host Larry O'Connor changed his Twitter avatar to a 2011 Charlie Hebdo cover that featured a depiction of the Prophet Mohammed, a serious taboo within Islam that has incited protests in the past. On the day Charlie Hebdo was slated to run that particular cover more than three years ago, its offices caught fire.
The Daily Beast published a slide show of some of Charlie Hebdo's most provocative covers, with the 2011 Mohammed image posted front-and-center.
Controversies surrounding depictions of Mohammed are familiar at this point.
The Danish newspaper Jyllands-Posten generated outrage in the Muslim world after it published caricatures of Mohammed in 2005. And those who are more familiar with American satire no doubt recall the controversy surrounding Comedy Central's repeated censorship of Mohammed's image on "South Park."
For Josh Greenman, opinion editor at the New York Daily News, Wednesday's carnage in Paris had implications in the United States.
"If you've ever laughed at The Onion or The Daily Show, this is an attack on you," Greenman said on Twitter.