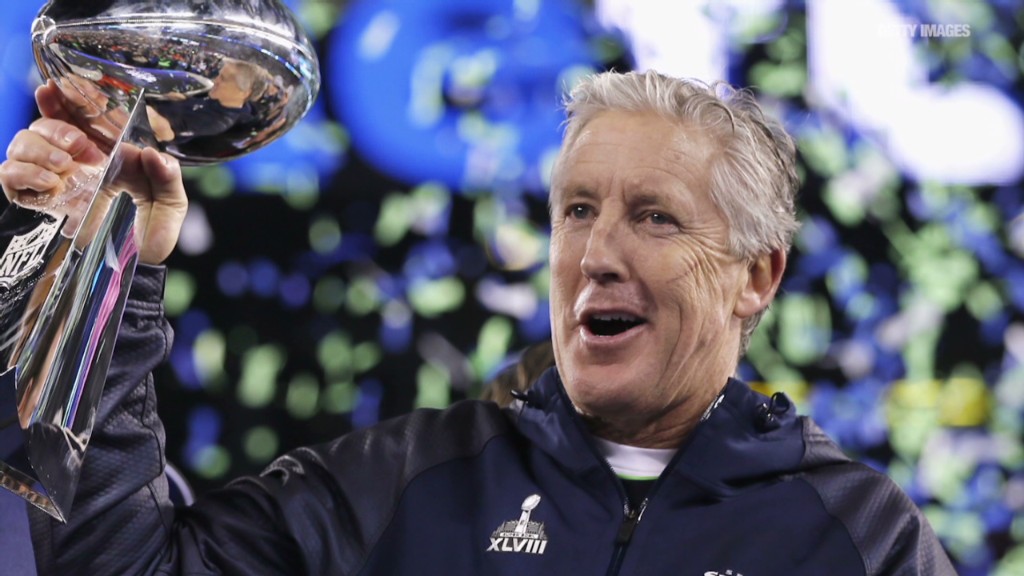 Want to buy a 30-second commercial on this year's Super Bowl? You're in luck -- a few spots are still available.
But it'll cost you $4.5 million.
NBC, the network televising the big game on February 1, said Wednesday that it has sold 95% of the available ad space. Seth Winter, the network's executive vice president, said there are a "handful of units" left.
Winter affirmed that NBC expects the telecast to be fully sold out by kickoff, as it is every year.
"This should be the biggest day in advertising," Winter said on a conference call with reporters. He touted the $4.5 million-per-ad figure, up from the roughly $4 million that Fox charged during last year's game, which set a new ratings record.
Related: TV ad sales slowdown affecting the Super Bowl?
While this is good news for the Peacock network, NBC's announcement is a little bit later than usual. Fox had sold 95% of its available Super Bowl ad space by the September prior.
When asked if the high asking price was the reason why NBC had not yet sold out, Winter hedged, saying "I don't think price has been an issue."
"Everyone knows that is what the game is worth," he added.
Analysts have observed that the network may be able to charge a premium to sponsors who wait until the last minute to buy.
Related: Ex-NFL star: 'I had to start over and pick up the pieces'
But even the Super Bowl is not immune from the advertising slowdown that has been seen across the television spectrum.
Winter indicated on Wednesday that advertising categories like technology, wireless and automotive have been weak spots.
On a brighter note, he pointed to 15 first-time sponsors for this year's game.
One sponsor that's already seeking attention for its ads this year is Anheuser-Busch. The beer company announced on Wednesday that it will have three ads showcasing its Budweiser and Bud Light brands during the game.