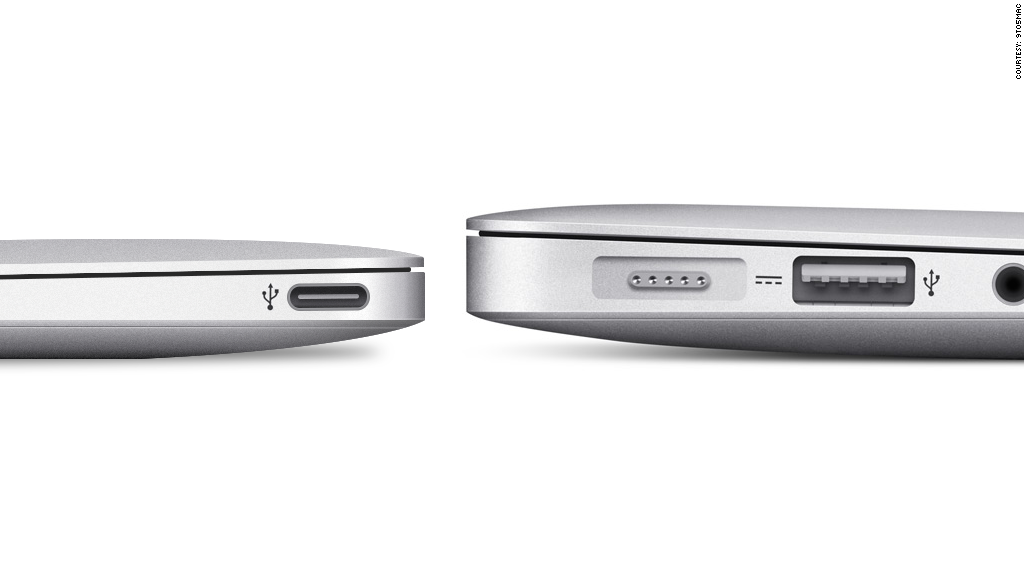 The new MacBook Air might be getting its biggest makeover yet.
9to5Mac reports that Apple is testing a new 12-inch MacBook Air that is significantly thinner and even narrower than the current 11-inch model. To get a laptop that thin, Apple (AAPL) swapped out all of the MacBook's ports for a single all-in-one miracle port.
Today, MacBook Airs come with a USB port and a MagSafe charging port (and a headphone port -- that's staying). The ports are only a few millimeters thick, basically taking up the entire width of the laptop.
If Apple does make the decision to switch to so-called USB Type C technology, it will be adopting a new, much thinner kind of USB plug that basically does everything.
Type-C USB is capable of powering a computer, so users won't need a separate MagSafe charger. It can power a display, and it's significantly faster than "old school" USB technology -- fast enough to replace Apple's Thunderbolt ports.
Best of all, Type-C USB plugs are reversible. That means no more struggling to figure out which way the plug is supposed to go.
Related: This is the new USB connector - and it's reversible!
And it's tiny technology. The plugs are roughly the size of today's micro-USB plugs that power just about every non-Apple smartphone. They're slightly larger than Apple's Lightning port.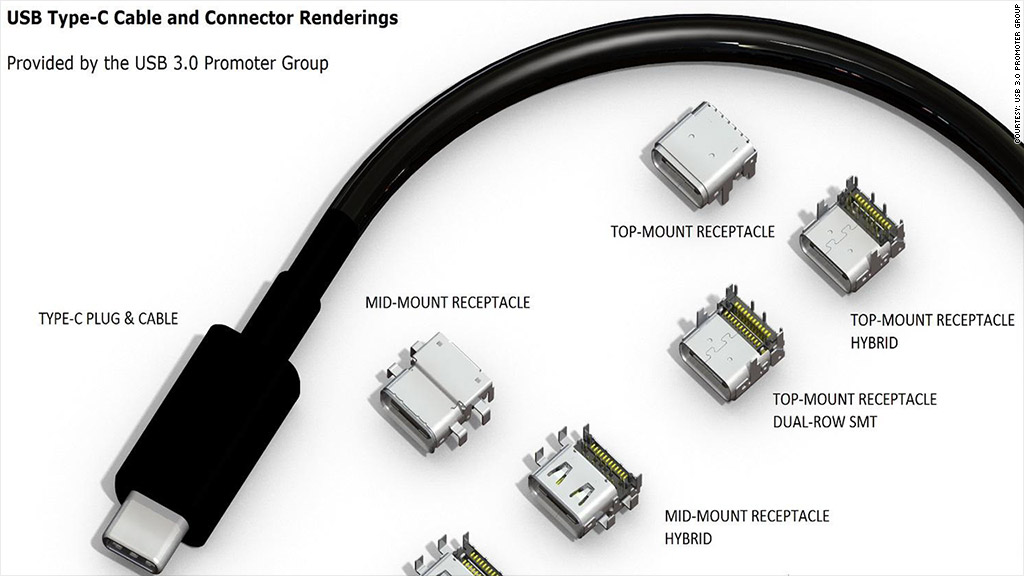 If Apple includes Type-C USB in its new MacBooks, which are expected to go on sale in the late spring, it could be just the jolt the new technology needs. The brand new Type-C USB technology started hitting stores late last year, but they haven't been widely adopted.
There has been no shortage of interest in a reversible USB solution since Apple introduced its reversible Lightning connector for the iPhone and iPad in 2012. But many governments, including the European Union, have mandated micro-USB as the standard for charging and connecting. The oddly shaped micro-USB connector is slightly fatter on one side than the other, and it isn't as powerful or fast as USB Type C.
Of course, having just one port comes with some disadvantages. That means you wouldn't be able to connect to a display or printer while charging your MacBook. It also means that you'll have to buy adapters for all your suddenly incompatible old-style USB plugs.
An Apple spokesman could not be reached for comment.
9to5Mac reports that the new 12-inch MacBook that Apple is testing has a slightly smaller keyboard to create a narrower profile for the computer. But that doesn't necessarily mean that MacBook version will be the one to hit store shelves. Apple tests many models of its products before choosing which to sell to customers.