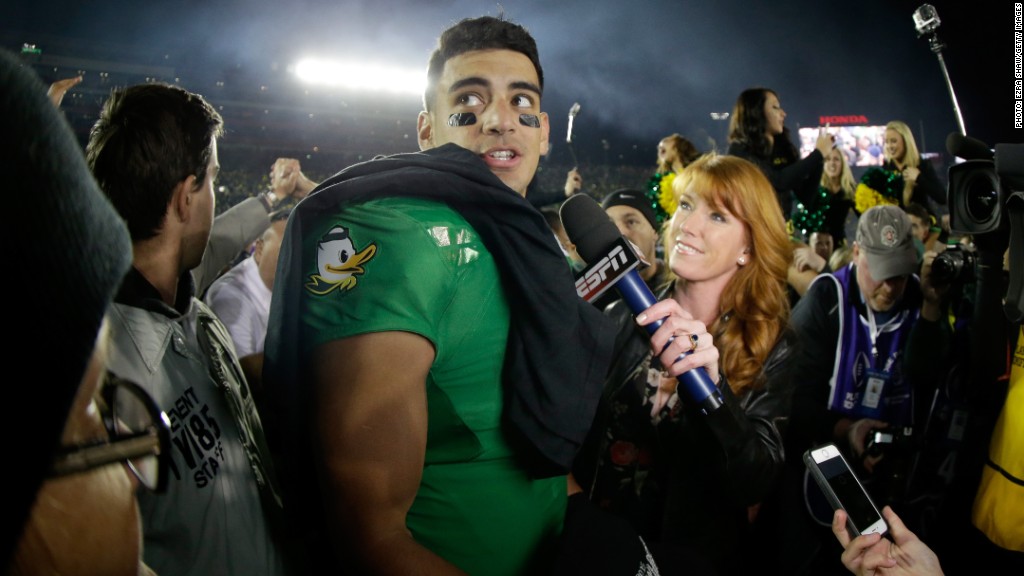 If you're curious why Dish Network needed ESPN for its new Sling TV service, here's the reason.
ESPN kicked off 2015 with its most-viewed week ever, December 29 to January 4.
This includes New Year's Day, which was the most-viewed day in the network's 35-year history.
The holiday brought in an average of 11.6 million viewers for the network thanks to a big boost from the addition of the new college football playoff.
The playoff's two semifinal games last Thursday brought in 28 million viewers each, making the telecasts the top two programs in cable TV history.
With the advent of a la carte cable coming from the likes of HBOGO in 2015, some have been prognosticating the death of cable. But ESPN's numbers last week show that a cable à la carte future is very doubtful without the Worldwide Leader in Sports.
Sling TV, Dish's new cable bundle via the Internet, was keen on the sports network being a part of the package.
"If ESPN wasn't in this package, do you think Dish would be trying to sell it?" wrote Re/Code's Peter Kafka.
Related: ESPN on the web for $20 a month is coming soon
While the big week is good news for the sports network, ESPN dominating ratings isn't exactly a new phenomenon.
ESPN is one of the most popular channels on cable with 19 of the top 20 most-viewed programs in cable history all belonging to the network.
The only non-ESPN broadcast to break the top 20 is the season five premiere of AMC's "The Walking Dead."
Related: Mega ratings for ESPN's college football playoffs make cable TV history
However, not everything was celebratory at ESPN last week.
On Sunday, the network lost veteran "SportsCenter" anchor Stuart Scott who died after a long battle with cancer.
He was 49.