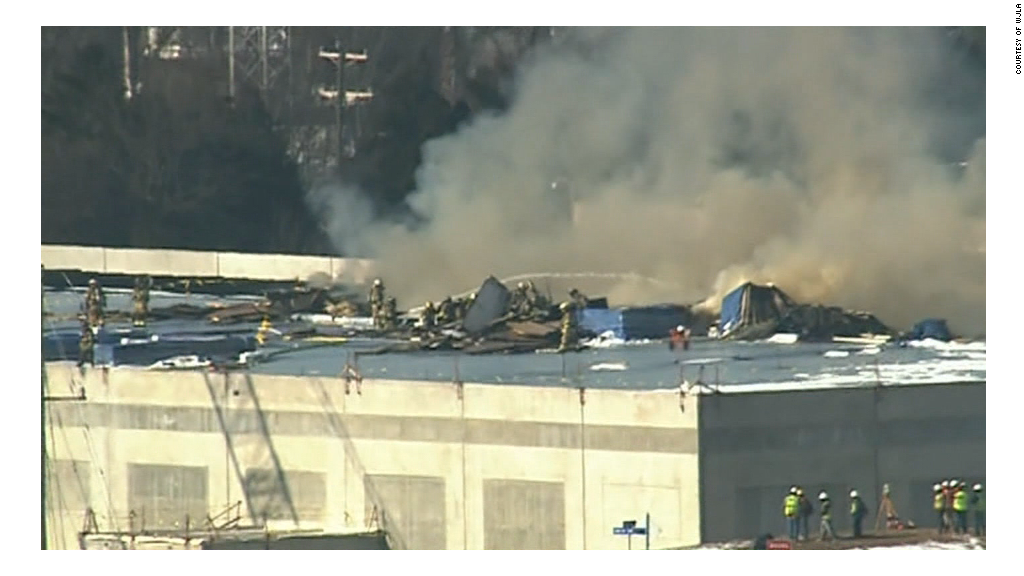 A large fire lit up the roof of an Amazon data center that's still under construction in a Virginia suburb outside Washington, D.C.
No one was hurt in the blaze, according to the local fire department, which was able to put out the fire in under an hour.
Amazon (AMZN) said the facility was in the early stages of becoming an Amazon Web Services cloud computing center. The company noted that the incident didn't impact company production or shipping.
The nondescript building will one day be one of Amazon's massive data centers -- the kind that keep websites running and store computer information for companies.
Passersby on the nearby highway snapped photos, which showed a large plume of thick, black smoke that rose hundreds of feet into the air.
Construction workers were on the roof, surrounded by highly flammable building materials, when they kindled. The workers managed to escape, and no one was hurt, according to Mary Maguire, spokeswoman for the Loudon County Department of Fire, Rescue and Emergency Management.
Firefighters were dispatched at 10:12 a.m. They had it under control 50 minutes later, she said.
The owner of the property, Corporate Office Properties Trust, wouldn't say what companies occupy the building. But a company spokeswoman, Stephanie Krewson-Kelly, said there was "little to no impact to the development of the facility."