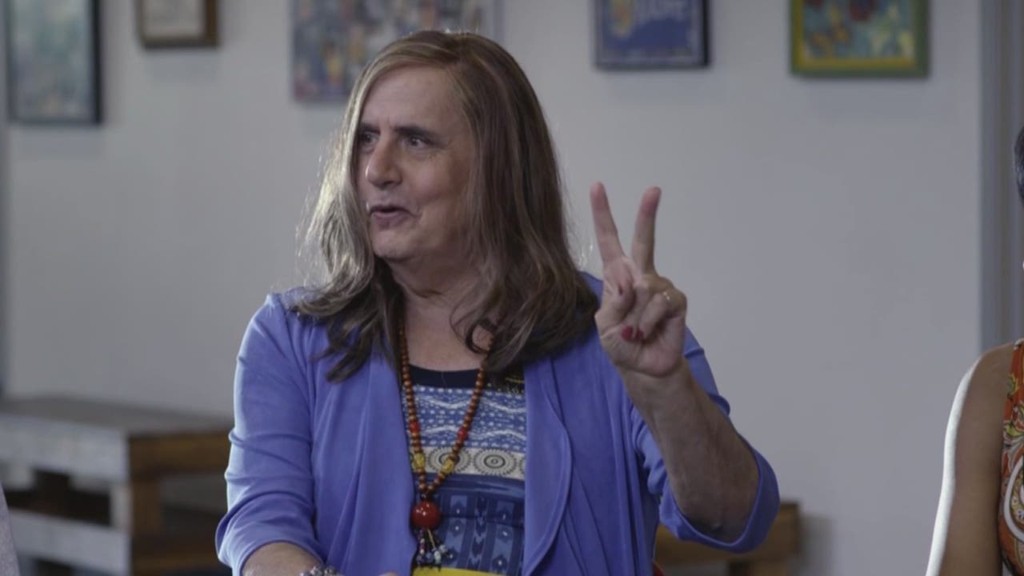 "I want to thank Amazon, Jeff Bezos..."
Those words were spoken at a Hollywood awards show for the first time on Sunday as Amazon's comedic television series "Transparent" picked up two Golden Globe awards, beating shows from HBO, Netflix and the CW.
The awards were an affirmation of the widening television landscape, as streaming services like Netflix and Amazon Prime Instant Video are beginning to play host to award-worthy programs just like television networks.
Later in the evening, Netflix star Kevin Spacey earned an award for "House of Cards" -- his first Golden Globe after losing seven times for movie nominations.
Channeling his character Frank Underwood, Spacey said, "This is just the beginning of my revenge."
BTIG analyst Rich Greenfield suggested that the real story of the evening was not the rivalry between Amazon and Netflix, it was "how both are forever changing viewing behavior."
Both "House of Cards" and "Transparent" were released all at once online, letting the audience decide how, when and where to watch.
The twin awards for "Transparent" were the first ever for Amazon. The best comedy award was accepted by the show's creator Jill Soloway; she thanked Amazon CEO Bezos -- who was seated at a prime table -- immediately after thanking the Hollywood Foreign Press Association, which holds the annual Golden Globes ceremony in Beverly Hills.
A little while later, the star of "Transparent," Jeffrey Tambor, won the award for best actor in a television comedy. He called Amazon "my new best friend."
In "Transparent," Tambor plays a transgender woman -- a father, Mort Pfefferman, who comes out as a woman, Maura, to his family. For that reason, the series has been hailed as groundbreaking.
On stage, Tambor repeatedly thanked the transgender community.
"Thank you for your courage," he said. "Thank you for your inspiration. Thank you for your patience. And thank you for letting us be a part of the change."
Earlier, accepting the best comedy award, Soloway said it was dedicated "to the memory of Leelah Alcorn, and too many trans people who died too young."
Alcorn was a transgender teenager from Ohio who died last month in an apparent suicide.
Soloway also dedicated the award to her father, who came out as a woman much like Tambor's character on the show.
"If you're watching right now, I just want to thank you for coming out," she said. "Because in doing so, you made a break for freedom; you told your truth; you taught me how to tell my truth and make this show; and maybe we're going to be able to teach the world something about authenticity and truth and love."
She held up her statue: "To love."
Related: Tambor on nomination: 'I think this will help spread the word'
"Transparent" premiered on Amazon Prime Instant Video in September to rave reviews -- with some critics calling it the best new show of 2014, regardless of network or platform. The reviews immediately spurred speculation about awards.
Amazon was nominated for just two awards -- and won both -- while Netflix was nominated for seven (mostly for acting) and won one (for Spacey).
Netflix's comedy "Orange is the New Black" lost to "Transparent" in the best comedy category while "House of Cards" lost to Showtime's "The Affair" in the best drama category.
Pretty soon, TV award nominations for shows on Internet streaming services will stop turning heads. But for the time being, it's a source of intrigue, partly because it remains to be seen how accepting the judges are -- or are not -- at the arrival of Netflix (NFLX) and Amazon (AMZN).
Maybe that's why Amazon Studios chief Roy Price and Netflix chief content officer Ted Sarandos posed for a photo inside the hotel where the awards were presented. Price posted it on Instagram.
A couple hours later, Price posted a second photo, clutching one of the statues and celebrating Soloway, Tambor "and an inspired team."
Netflix and Amazon are both likely to pick up Emmy nominations later this year.