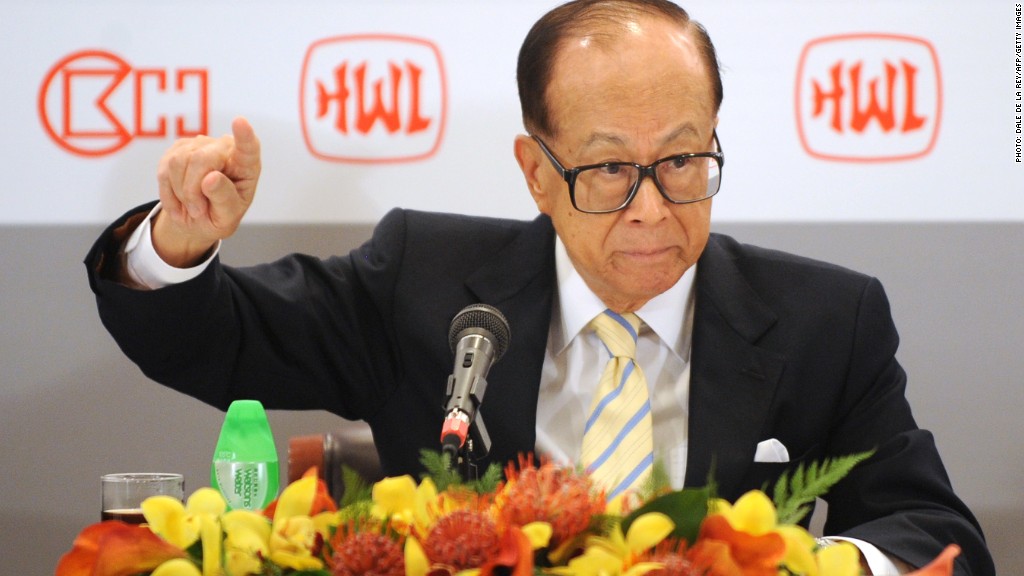 Asia's richest man just saw his wealth leap again.
Shares in companies owned by Hong Kong tycoon Li Ka-Shing soared Monday after he announced plans to restructure his massive empire and move it to the Cayman Islands.
Property company Cheung Kong (CHEUF) jumped nearly 15%, while investment holding firm Hutchison Whampoa (HUWHF) climbed almost 13% in Hong Kong trading. Both are controlled by Li, 86, worth an estimated $33 billion, according to the Hurun report.
Li's restructuring plans were announced late on Friday. They will split his assets into a new pair of companies. All real estate holdings will be grouped under CK Property, while other businesses including energy, retail, utilities and telecoms will be placed under CKH Holdings.
Related: Hong Kong has a tycoon problem
The new companies will be registered and traded in Hong Kong. But they'll both have their base in the Cayman Islands, a notoriously opaque tax haven.
Li called the restructuring a "watershed event," and said it will now be easier for investors to decide which businesses they want to buy into, according to a statement.
The overhaul took analysts by surprise, but their reactions have been positive.
The restructuring will streamline and simplify the current structure, under which Cheung Kong holds nearly 50% of Hutchison, wrote Wee Liat Lee and Patrick Wong of BNP Paribas in a note.
Li's assets span numerous industries, from property to utilities. His name, empire and influence are well-known to residents of Hong Kong.