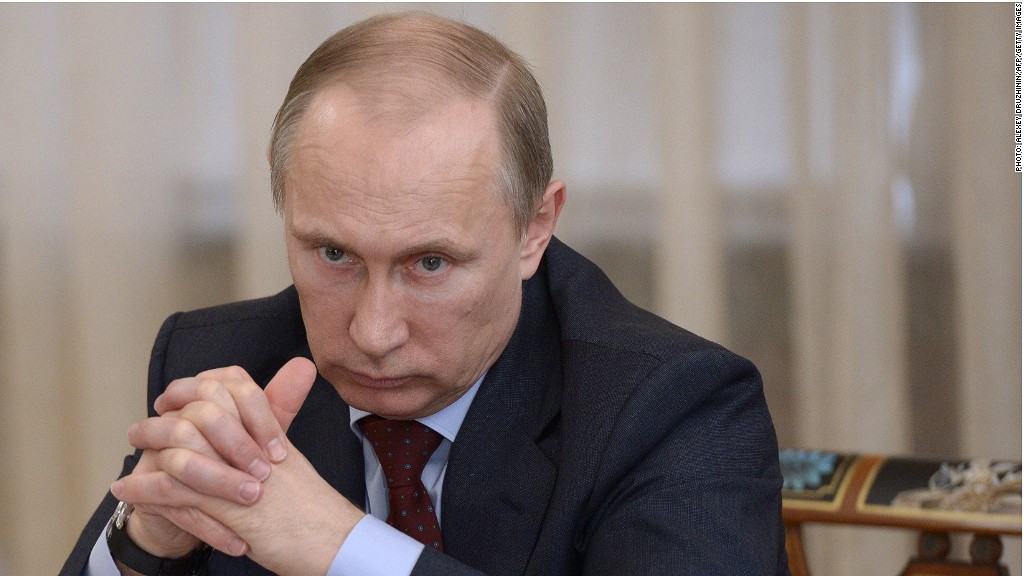 The pressure is building on Vladimir Putin: Russia will be hit by a wave of bankruptcies unless it cuts interest rates very soon, a top financial official warned Monday.
Anatoly Aksakov, president of Russia's regional banking association and deputy chairman of parliament's financial markets committee, said firms were running out of cash.
"Bankers believe that keeping the situation as it stands will cause a wave of bankruptcies, not only credit institutions but also a number of businesses and companies," Aksakov wrote in a letter to the central bank, according to Russian state media.
Related: Russian banks starved for cash as funding crisis worsens
Aksakov said the central bank must cut rates this month to 15% from 17%, then gradually to 10.5%, the level they were at before the current financial crisis. A central bank rate of 17% meant some companies were having to pay as much as 30% to borrow.
Lower rates would allow banks to lend more to companies and individuals, he said.
The comments signal deepening stress in Russia's financial sector. Ratings agency Fitch downgraded the country's sovereign debt rating last week, blaming a sharp deterioration in its economic outlook.
The impact of Western sanctions imposed over Russia's actions in Ukraine has sparked a cash crunch by shutting many companies out of international funding markets.
Regional airline Ak Bars Aero said Monday it would suspend operations until March, joining several other Russian carriers that have halted flights as the ruble slides and their financial troubles deepen.
A collapse in the ruble, driven in part by plunging oil prices, is causing economic pain by driving up inflation. Annual inflation hit 11.4% in 2014, state media reported Monday. That price pressure has prompted the central bank to jack up interest rates.
The ruble was under pressure again Monday, falling 1.3% against the U.S. dollar as oil prices continued to slide. Russia is heavily dependent on oil revenues. The currency shed about 40% of its value in 2014.
The government has attempted to shore up the banking sector with a series of handouts, spending billions to prop up lenders including VTB, Gazprombank and the failed Trust Bank.
BNP Paribas said Monday that Russia's banks may need an overwhelming amount of support this year.
"Banks may need up to ... $45 billion in capital in 2015 to support lending and absorb credit losses, and another ... $11.5 billion to address foreign exchange valuation losses," wrote credit specialist Tatiana Tchembarova.
At the same time, the central bank has been running down its stash of foreign cash to try to stabilize its currency and contain the economic crisis.
It burned through more than $120 billion in foreign currency supplies last year. It now has $388.5 billion left in total international reserves, including gold and other liquid foreign assets.
- CNN's Emma Burrows in Moscow contributed to this report