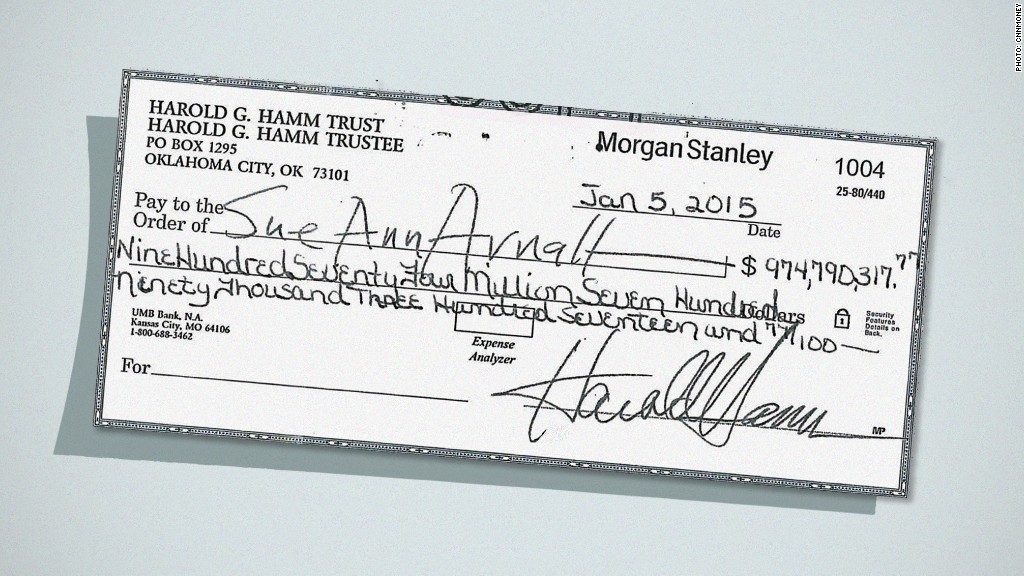 Despite cashing a check for nearly $1 billion, the ex-wife of oil magnate Harold Hamm said she will pursue her divorce appeal, which says she is entitled to more.
This is just another move in the pricey divorce, which has seen the pair battle it out with competing appeals since the case was settled late last year.
Sue Ann Arnall's statement that she would continue with her appeal came as a surprise, since it was thought that if she cashed the check it would void an appeal. But that doesn't seem to be the case, according to Arnall's attorney Ron Barber.
He said the check was presented "without intent to compromise or settle," and confirmed the appeal was still pending in the Oklahoma Supreme Court.
"Yesterday, Mr. Hamm's counsel filed a Motion to Dismiss Ms. Arnall's appeal, and we are presently in the process of responding to that Motion," he said in an email to CNNMoney Wednesday.
He did not say exactly how he was planning to respond. The divorce, which has been going on since 2012, ended the couple's 26-year marriage. As of last fall, Hamm was worth over $20 billion, according to Wealth-X, a wealth tracking company.
Related: $1 billion divorce settlement 'disappointing'
Hamm's lawyer isn't holding back when it comes to his thoughts on Arnall's appeal.
"Ms. Arnall is a classic case of wanting her cake and eating it too," said attorney Craig Box. "The Oklahoma state law is clear that the acceptance of the benefits nullifies her appeal, and we have asked the Oklahoma Supreme Court to look and render a decision in this matter in an expedited fashion."
He also said that Arnall "believes that she is above the law."
So, which side has the better case?
Related: Oil tycoon's ex accepts $975 million after all
According to attorney Michael Stutman, who has practiced family law in the state of Oklahoma and is now president of the American Academy of Matrimonial Lawyers in New York, Arnall's odds of success don't look great.
"My understanding of the law of Oklahoma is Sue Ann is whistling in the dark," he said. While maybe she could appeal and negotiate on some terms, like houses or other assets, more money might be tough because she already cashed the check, according to Stutman, who is not involved with the Hamm divorce.
"I cannot imagine that Mr. Hamm's attorneys would permit their client to issue a payment of that amount for the sole purpose of funding Sue Ann's appeal," he said.
Hamm's appeal, filed last month, said he couldn't afford to pay the $975 million because his wallet had taken a hit from falling oil prices. Then, weeks later, he sent in the payment in full.