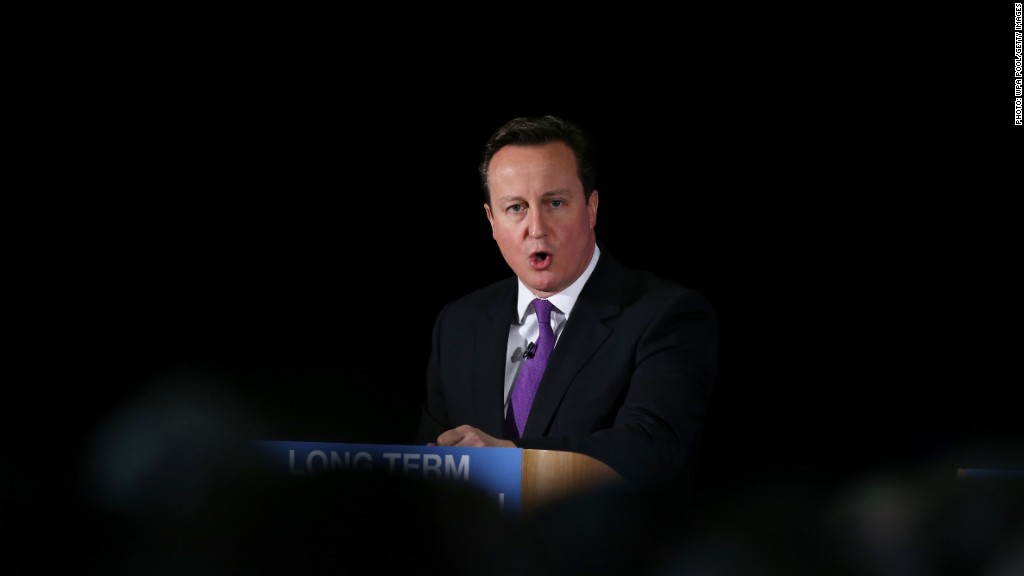 British Prime Minister David Cameron called for a ban on messaging services that the government can't snoop on.
"Are we going to allow a means of communications which it simply isn't possible to read?" Cameron said Monday. "My answer to that question is: 'No, we must not.'"
Apps such as Apple (AAPL) iMessage, Microsoft (MSFT) Skype, Facebook's (FB) WhatsApp, Google (GOOGL) Hangouts and Snapchat encrypt customers' communications. That means in many circumstances, law enforcement cannot access people's messaging data -- even with a warrant or a subpoena.
Cameron is running for reelection in May. If elected, Cameron said his parliament would draft a new law that would require Internet service providers and wireless companies to provide the government with more information about what their customers do online. If they refuse, those services would be outlawed.
At a speech in Nottingham, Cameron said he believes the U.K. government must have "the right legal framework to enable us to intercept the communications of potential terrorists."
He noted that the government already has access to telephone data, including where and a call takes place. But Cameron said the British government lacks the ability to trace communications "when people use more modern methods through the internet."
Related: iPhone encryption stops FBI, but not this 7-year old
Cameron said the new legislation will come in the name of security. In light of the terror attacks on Paris, he said the new legislation is appropriate.
"The Paris attacks demonstrated the scale of the threat and the fact we need robust powers to keep our people safe," Cameron said. "If I am prime minister, I will make sure ... we do not allow terrorists safe space to communicate with each other."
Governments and Internet companies have been sparring over customer data for years, but it's typically totalitarian governments that ban companies that refuse to fork over customer communications. In 2010, India said it would block BlackBerry (BBRY) services unless the company made customers' messages available to the government. BlackBerry settled the dispute by agreeing to give the Indian government access to "lawful access to secure data." China, Saudi Arabia and other countries have also made similar demands on messaging services.
Still, the debate has extended to western countries as well, as criminals increasingly use encrypted communications services to communicate with one another.
Other European governments in addition to the U.K. are also calling on Internet service providers and companies that operate online to provide more information about their customers. And Apple and Google's decisions to encrypt customers' cell phones have angered U.S. law enforcement as well.
Related: FBI director says iPhones shield pedophiles from cops
Andrew Carey contributed reporting to this story.