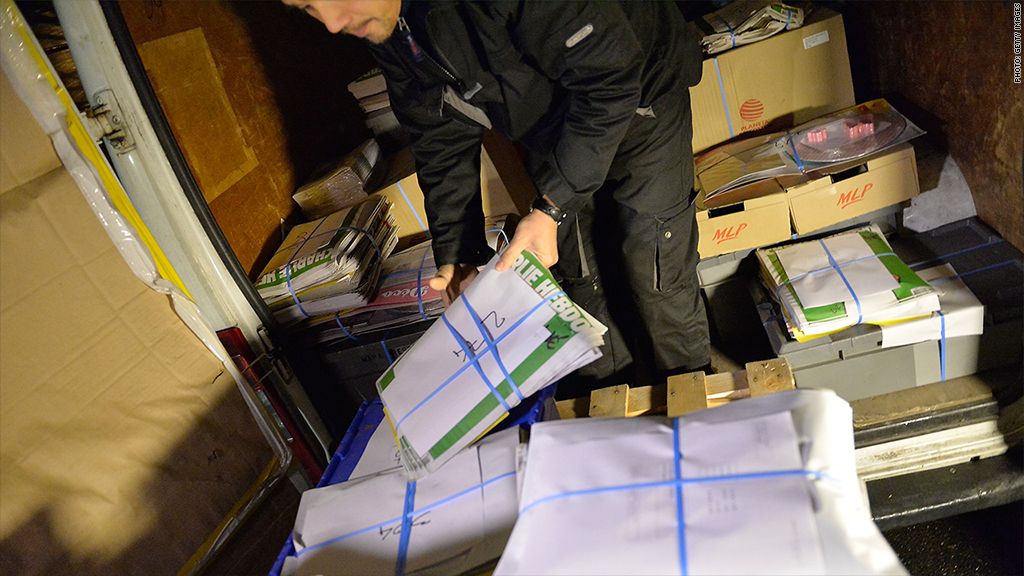 The latest edition of Charlie Hebdo is coming to America this week -- a few hundred copies, anyway.
The first issue of the French satirical magazine since last week's deadly massacre sold out quickly in Paris on Wednesday, but Americans who want a copy have been out of luck.
That's about to change.
A shipment of 300 copies is headed to the U.S., according to Martin McEwen, the vice president and commercial director of North American distributor LMPI. Most of them will go to New York City, Washington, D.C., Chicago, Los Angeles and San Francisco. Charlie Hebdo hasn't been available in America for years, he added.
Another 1,500 issues are headed to Canada, primarily Quebec.
The new issue will mostly be available at specialty newsstands that carry international and foreign papers.
McEwen has requested up to 5,000 copies to distribute in the U.S., but doesn't know if he'll get them.
"I really have no idea how many copies they'll make available," McEwen said. "I know they need to serve the French market first, so we'll see what they're able to get to us."
The new copies will be headed for the U.S. Thursday night via an Air France flight, and should hit newsstands Friday morning or over the weekend. The magazines bound for Canada should be on sale at about the same time, McEwen added.
Given how quickly the issue sold out in Paris, this batch of copies may not last long. But there are more in the works
Charlie Hebdo's French distributor MLP plans to print a total of 5 million copies to be issued worldwide, with the first million released on Wednesday.
None of the material from the new issue, which features a cartoon depiction of the Prophet Mohammed on the cover, has been published on Charlie Hebdo's website. The website has essentially served as a fundraising apparatus since the attack.
Demand for the new issue has come from countries where the magazine was not widely sold before the attack, MLP spokesman Michel Salion told CNNMoney, particularly Germany.
"Every four hours they are asking, 'Please give us 10,000 more,'" Salion said.