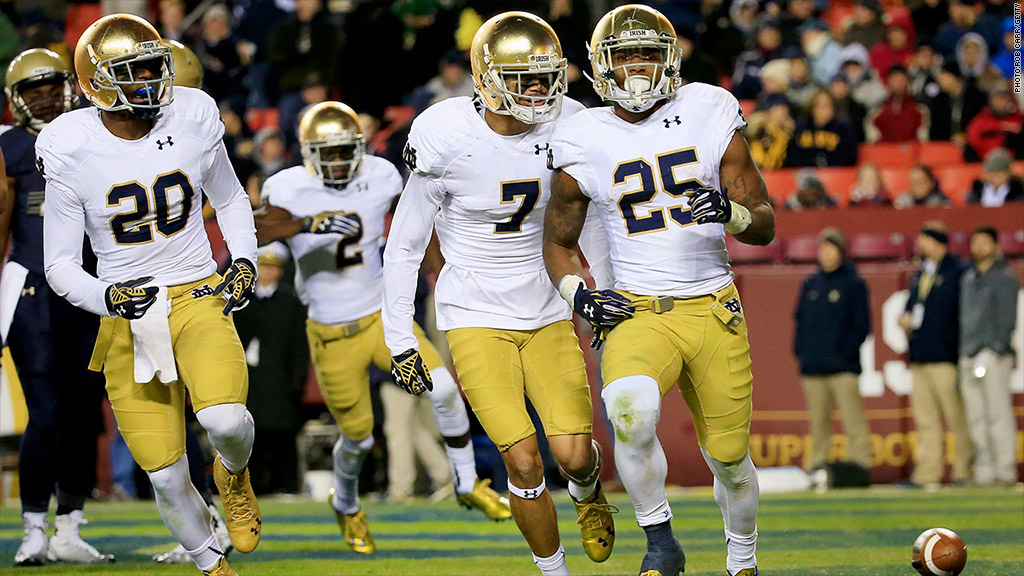 The University of Notre Dame's football team may have struggled this season. But that hasn't hurt its stellar reputation.
In fact, on Wall Street, Notre Dame was able to raise $400 million selling bonds at a record low interest rate of 3.4%. It was the lowest rate on record for a 30-year corporate bond.
Notre Dame received a rare AAA rating from credit rating agency Moody's in December. The agency cited the university's "national prominence," its history of strong fund raising and robust demand from students to attend the school.
It was a good rating to have in the current low interest rate environment and investors were willing to lend money to the university at the low interest rate.
According to the school, the previous low rate on corporate debt was a $500 million bond issued by Xcel Energy (XEL) in August 2012.
Related: National Championship scores largest cable audience ever
Notre Dame plans to spend the money upgrading its football stadium, by adding luxury boxes and a new student center, which will be built onto three sides of the stadium. The university will use part of the money to also add two new academic buildings adjacent to the stadium.
Notre Dame's football team had a disappointing season -- after a 6-0 start, it stumbled to lose five of its last six regular season games.
Related: Wildly popular college football about to get more profitable
The new premium seating will likely make Notre Dame's already rich football program even more lucrative.
Notre Dame's football revenue totaled $80.6 million in the 2013-14 season, resulting in $47.8 million profit, according to data from the Education Department. CNNMoney analysis shows that Notre Dame football is the fifth richest in the nation in terms of revenue and the seventh richest in terms of profits.
Profits are only likely to increase under a new football playoff system, especially with ESPN agreeing to pay $7.3 billion to broadcast those playoffs over the course of 12 seasons.