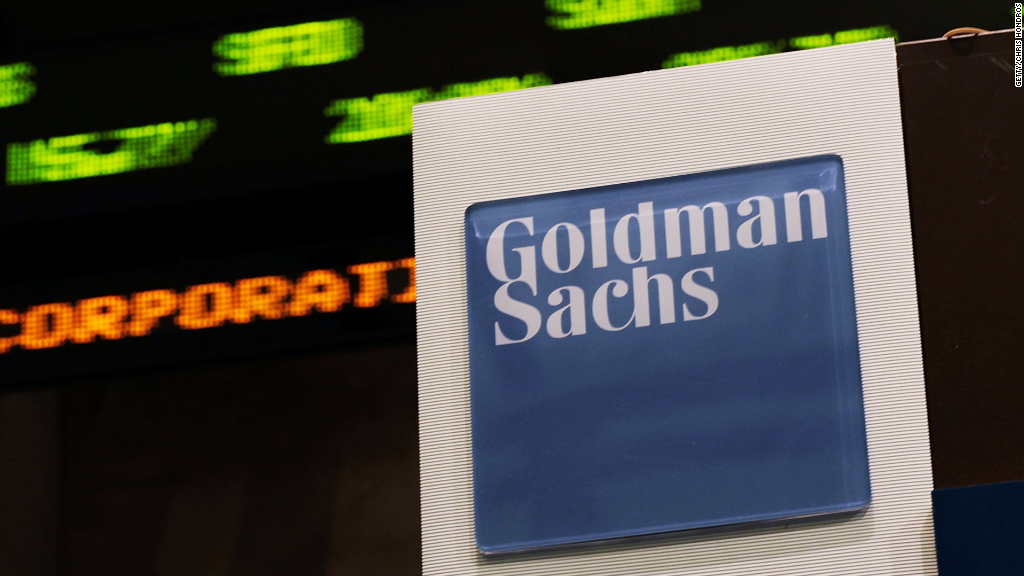 The Vampire Squid of Wall Street is alive and well. But investors still treated the stock like a cold dish of fried calamari.
Goldman Sachs (GS) reported a fourth-quarter profit of $2.2 billion, or $4.38 a share, Friday morning. That was better than analysts' expectations of $4.32 a share.
Revenues came in at $7.69 billion for the quarter, also topping forecasts.
But shares of Goldman Sachs fell nearly 1% in late afternoon trading.
Investors may be disappointed because profits and revenue were down from a year ago, largely due to big drops in Goldman's investment banking and market-making business units.
Revenue from its bond, currency and commodity trading unit plunged nearly 30% from a year ago -- a reflection of the massive volatility in the global markets in the fourth quarter.
What's more, Goldman's earnings were expected to be much better as recently as a week ago. The consensus estimate on Wall Street was for a profit of $4.70 a share.
Analysts slashed their expectations ahead of earnings as it became clearer just how tough the fourth quarter was for all Wall Street banks.
Rivals JPMorgan Chase (JPM), Bank of America (BAC) and Citigroup (C) all reported earnings this week that were viewed as duds by investors. The main source of weakness was a slowdown in trading -- the bread and butter business for Goldman Sachs.
Still, Goldman Sachs CEO Lloyd Blankfein said in a statement that the company was "pleased" with how the company did "during a year characterized by mixed global economic and financial conditions." He also sounded upbeat about this year, saying the firm sees "evidence of a continued pick up in momentum for the global economy."
Big bonuses still reign? Employees at Goldman Sachs were rewarded handsomely as well. Total compensation expenses, numbers often referred to as Wall Street's bonus pool, were relatively unchanged from a year ago.
The company paid out $12.69 billion to its 34,000 workers last year. That works out to an average of $373,265 per employee. The company also increased its headcount by 3% last year.
For all of 2014, revenue rose slightly from 2013. Profits were up 5%. During a conference call with analysts, Goldman Sachs CFO Harvey Schwartz said that the company has held up relatively well because of its diversification.
To that end, Schwartz said that the impact from the shocking move in the Swiss franc this week was "immaterial" for the firm, and that it would not affect Goldman Sachs' foreign exchange strategy.
Schwartz also touched on a topic that's been widely discussed on Wall Street: increased regulation of large banks. Schwartz said that the level of regulation is "unprecedented." But he added that the financial system is now stronger as a result.
That's a stark contrast to how JPMorgan Chase CEO Jamie Dimon has viewed the increased attention from Washington. He said that the bank was "under assault" by regulators earlier this week.