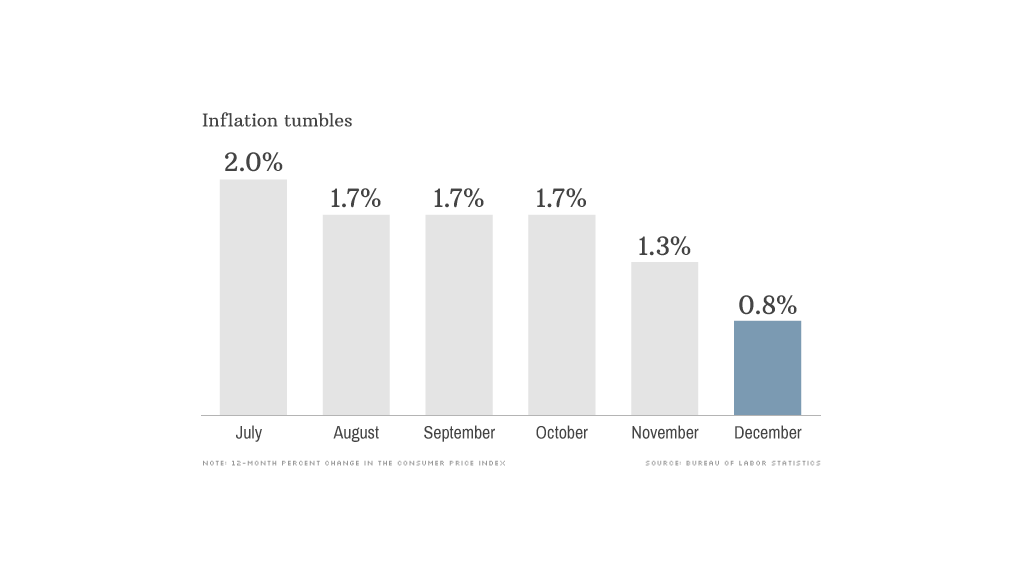 U.S. consumers are really getting a break.
Prices for everything Americans pay for -- from home furnishings and used cars to airline fares -- fell in December by 0.4% compared to November. It was the steepest decline since December 2008. The sharp drop in gasoline prices was the biggest contributor.
The Consumer Price Index, a key measure of inflation, rose 0.8% in December from a year ago, according to the Labor Department. It was the lowest rate since November 2009.
While low prices are great for consumers, it's worrisome for those in charge of the country's monetary policy.
Federal Reserve Chair Janet Yellen sees a moderate 2% increase in consumer prices as a sign of a healthy economy. With jobs growing and other parts of the economy revving up, the Fed has ended its six-year economic stimulus program.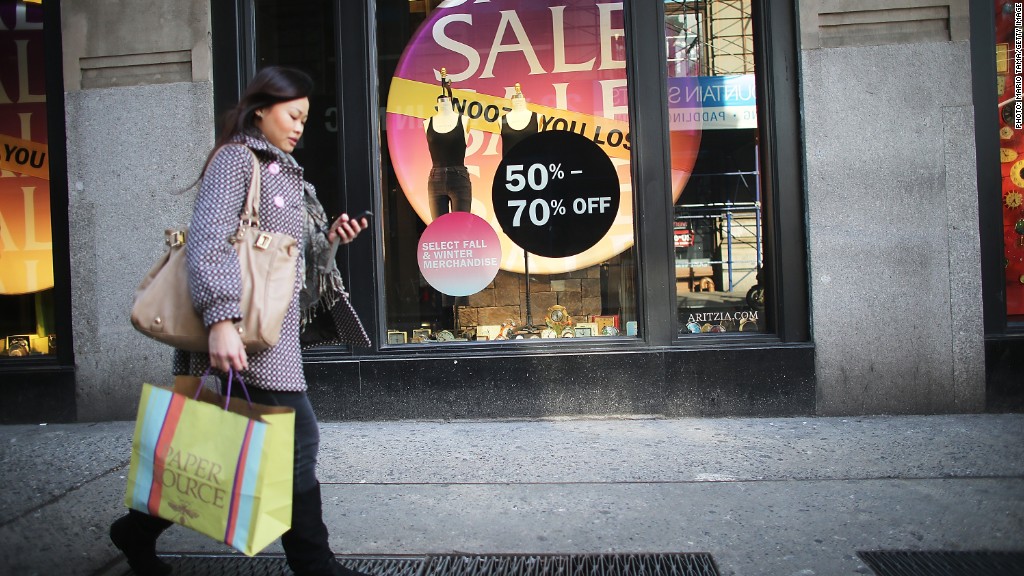 But inflation has to be around the 2% threshold for the Fed to consider raising its key interest rate this year.
Related: US economy grows incredible 5%
"It's the one part ... that is not trending in the direction that (the Fed) wants to see," says Sam Bullard, senior economist at Wells Fargo Securities.
Taking out the volatile food and energy prices, core inflation rose 1.6%, tying its lowest mark for 2014.
Related: 2014 was America's best year of job growth since 1999
Gas prices at the pump dropped 21% in December from a year ago and 9.4% from the previous month.
The low gas prices and job growth are driving consumer confidence. The University of Michigan consumer sentiment index is at its highest mark in over a decade.
Although deflation is a major economic concern, it's not time to hit the panic button, Bullard says. He forecasts gas prices stabilizing in the coming months and inflation rising back towards the Fed's goals in the second half of 2015.
"We still feel the U.S. is the bright spot in the global economy," Bullard says.