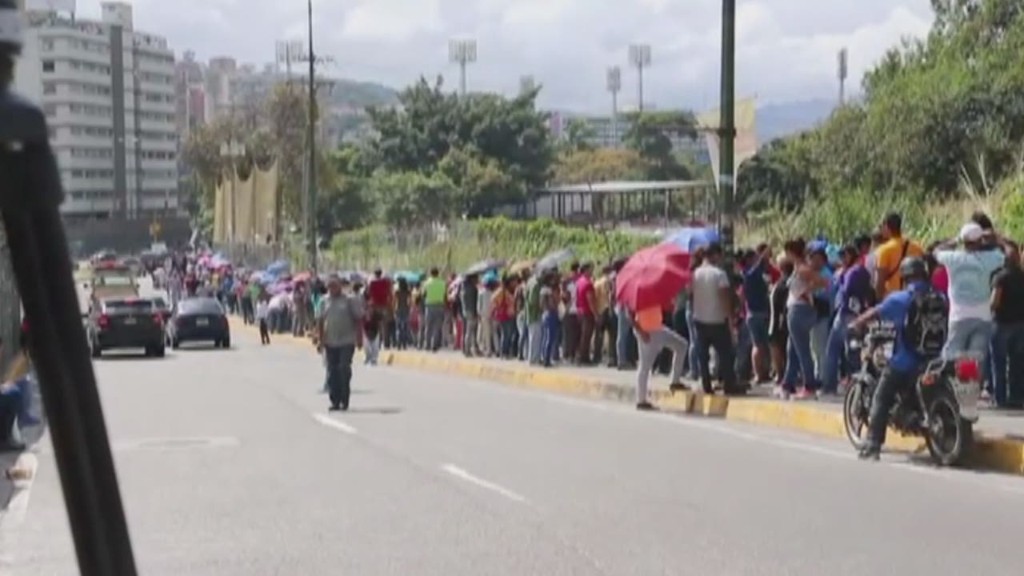 Rosana Rodriguez went to her local McDonald's in Venezuela and found one key menu item missing: French fries.
It's not just the McDonald's in her hometown of Puerto Ordaz, all McDonald's in Venezuela are out of fries. The South American nation can't afford to pay for many imported goods, including fries.
It's yet another sign of the country's spiraling economy, which many experts predict will default this year or next.
Venezuela relies heavily on oil revenue to fund the government and pay for imported items. About 70% of its consumer goods, including French fries, are imported, according to the Brookings Institution in Washington D.C.
Related: Wall Street bets on Russia and Venezuela defaults
Hurt by oil: The already-suffering economy is getting hit extra hard as oil prices have fallen from above $100 a barrel in July to around $45 now. The nation's currency, the Bolivar, devalued more than any other country's last year, shedding 60% of its value. It was even worse than the Russian ruble.
Protests and violence are mounting in Venezuelan cities as food and basic items are hard to come by. Rodriguez says she often sees four-hour long lines at supermarkets for people just trying to buy a bag of flour.
"It's an adventure to buy milk, sugar, flour, oil, meat," says Rodriguez, listing many other items. "The life of Venezuelans has changed a lot. It is sad to see."
Related: Opinion: Venezuela squandered oil riches, now faces default
Seeking foreign aid: Nicolas Maduro, Venezuela's President, visited OPEC nations as well as China and Russia this week, seeking funds to help his economy and stave off default. Maduro says China and Qatar have already promised to send funds.
But the outlook for Venezuela got even gloomier Tuesday when Moody's downgraded the nation's debt rating to Caa3, the same level as conflict-ridden Ukraine. Experts say a default is highly likely this year or next.
"The country is imploding," says Russell Dallen, managing partner of Caracas Capital Markets, a Miami-based firm that specializes in Latin American securities. "Venezuela couldn't pay its bills at $100 a barrel of oil and it's darn sure going to have a hard time paying them at $40 a barrel of oil."
Related: Airlines in currency war with Venezuela
Venezuela does not sell enough of its oil to cover its debt, Dallen says. Although Venezuela produces about 2.3 million barrels of oil a day, Venezuelans consume a third of that and pay almost nothing for it. While the country also sends a lot of oil to China, it's almost entirely to pay off previous debts, according to Dallen.
The South American nation has $11 billion in debt payments this year. The critical moment will come in October, experts say, when about $5 billion is due. Maduro has not asked the International Monetary Fund or World Bank for financial help.
That would go against his anti-capitalist politics, says Harold Trinkunas, a Venezuelan-born senior fellow on Latin America at Brookings.
"This really is the territory where Venezuela's income is not sufficient to meet all the demands in terms of imports, debt service," Trinkunas says. He added: "Constraining imports really is affecting basic living standards."