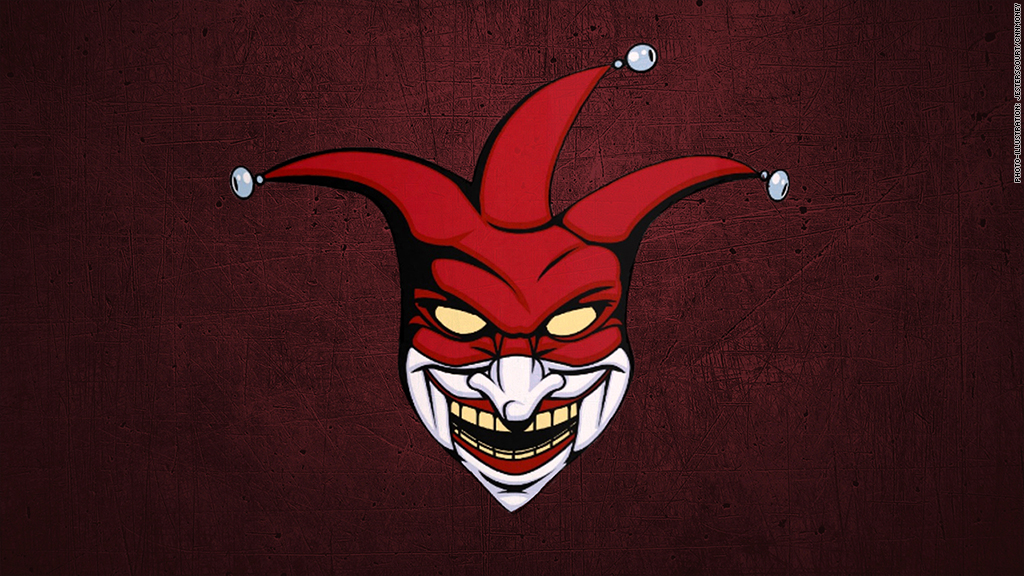 Anonymous isn't doing anything new by hacking Islamic extremist websites. A mysterious figure known as "The Jester" has been at it for five years.
Jester has single-handedly taken down dozens of websites that, he deems, support jihadist propaganda and recruitment efforts. He stopped counting at 179.
To some, he's an Internet superhero. Think Batman, with all the vengeance-laden moral qualms of vigilantism included.
"I realized something needed to be done about online radicalization and 'grooming' of wannabe jihadis, and we didn't have mechanisms to deal with it," Jester said in an interview with CNNMoney. "I decided to start disrupting them."
Little is actually known about Jester, other than his public persona on Twitter as @th3j35t3r: He is unapologetic, unabashedly pro-America and full of military jargon.
Jester first appeared on Twitter on Dec. 19, 2009. Since then, he's used his computer hacking skills to shut down, deface or expose anything he considers threatening to the United States -- especially if it endangers soldiers. If a legitimate company is hosting the site, it usually gets a brief warning before he attacks.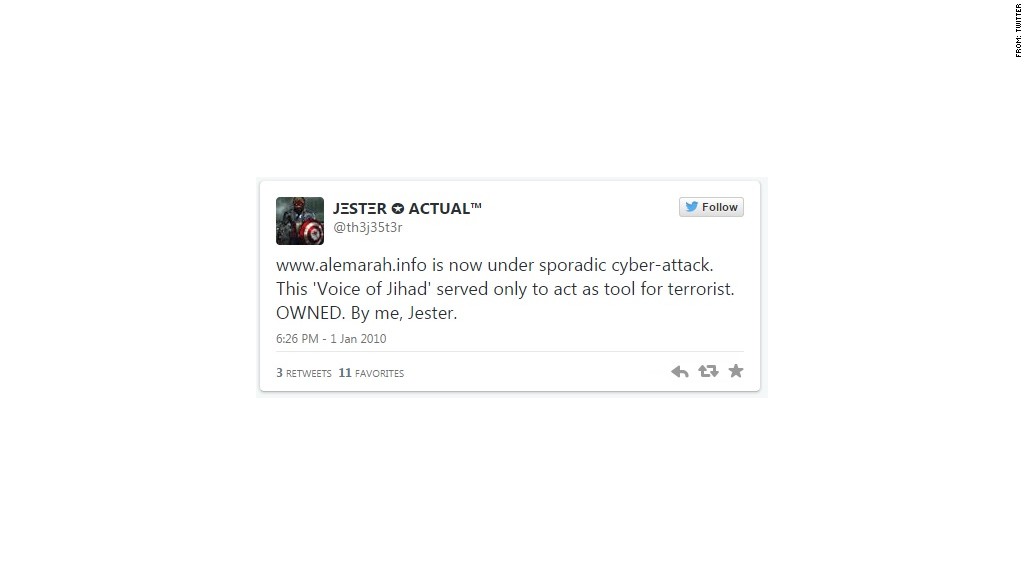 Consider his one-man operation on June 18, 2014. It was a Wednesday evening and out of the blue, Jester sent a public message via Twitter to GloboTech Communications, a company in eastern Canada that hosts websites.
"You are hosting fajer.info... which provides material support (inc mobile apps) to #ISIS terrorists," he warned, identifying a specific computer server.
At 9:19 p.m., Jester followed up with his signature threat: "I respectfully urge u to review my last 2 tweets. U should take action, or if you prefer, I can. #30mins #TickTock"
Half an hour later, the jihadist website was knocked offline, and Jester delivered his catchphrase: "TANGO DOWN."
Related: Anonymous blocks jihadist website in retaliation for Charlie Hebdo attack
Five years of this has made him something of an Internet celebrity. Fans buy hats and T-shirts sporting his jester face logo or catchphrase. He has racked up nearly 58,000 followers on Twitter. His laptop is on display at the The International Spy Museum in Washington, D.C.
In late December, he retired his public persona and got showered with warm wishes and farewells. It didn't last long.
The deadly attack on the French satirical magazine Charlie Hebdo, which was planned by the group "Al Qaeda in the Arabian Peninsula," brought Jester back out from the shadows.
This past Saturday, he hacked into The Global Islamic Media Front, a jihadist website that provides digital tools and teaches terrorists how to communicate privately. Jester defaced the website by planting two images of Charlie Hebdo covers -- one showing Mohammed (images of whom are extremely offensive to Muslims) and the other showing a Muslim man kissing a magazine cartoonist.
"The aim was to push it out there and give them a black eye," he said. "I'll be ramping up more 'offensive countermeasures' over the coming days/weeks."
Jester wouldn't say what, exactly, he has in mind. But if he sticks to his usual game plan, he'll target smaller jihadist sites. When people shift to the few, well-known jihadist forums, he's "herding them into a smaller space, and therefore making them easier to monitor."
He says he operates without the official approval of any U.S. government agency. But while Jester attacks jihadist sites, he says he quietly steals a bunch of information on visitors and site administrators and secretly passes the data on to his contacts at U.S. intelligence agencies.
So, if he's Batman, who's his Commissioner Gordon?
"Nicely put... sadly, I'll decline to comment," he said.
Jester's origin story: He says he spent five years as a U.S. soldier fighting in Afghanistan. His former job, testing computer servers and beefing up their security, taught him the necessary skills. He has a desk job now in the cybersecurity and intelligence field.
He adopted the name "Jester," because it's a common enough Internet moniker that he thought it could better hide his true identity among "too many false positives."
But make no mistake: His vigilantism is illegal under U.S. laws. And the fact that he hasn't yet been hunted down and arrested says a lot about federal prosecutors and the FBI. Several cybersecurity experts see it as tacit approval.
On one hand, his personal crusade makes him little different from members of Anonymous. Last week, Anonymous blocked a jihadist website in retaliation for the Charlie Hebdo attack.
The difference is that Anonymous is a worldwide, ragtag group driven by various ideologies and rules. Jester sticks to one, patriotic mission: U.S. enemies only. But the definition is up to him. In 2010, he temporarily blocked Wikileaks. In August, he took down the website of PlayStation hackers Lizard Squad.
"I answer to my conscience, and to God, sir," he said. "That's about it. I think my actions speak loudly enough of my principles and doctrine."