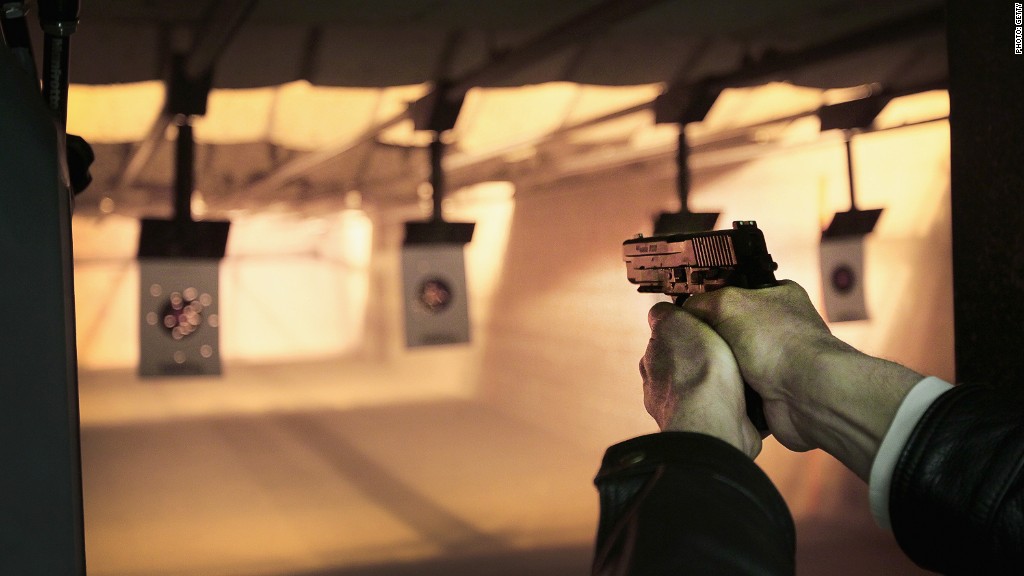 Boom! Gun sales look like they're back on track.
Smith & Wesson (SWHC) fired up investors on Tuesday by saying it sees "recent, positive trends" in the consumer firearm market, and that's likely to translate directly into higher profits for the gun maker.
The firearm company feels so confident that it raised its sales and earnings targets for 2015 above what Wall Street had been banking on.
The stock surged nearly 20% as investors cheered the news.
Rival Sturm, Ruger & Co. (RGR) also saw its shares pop about 4% on the upbeat sentiment.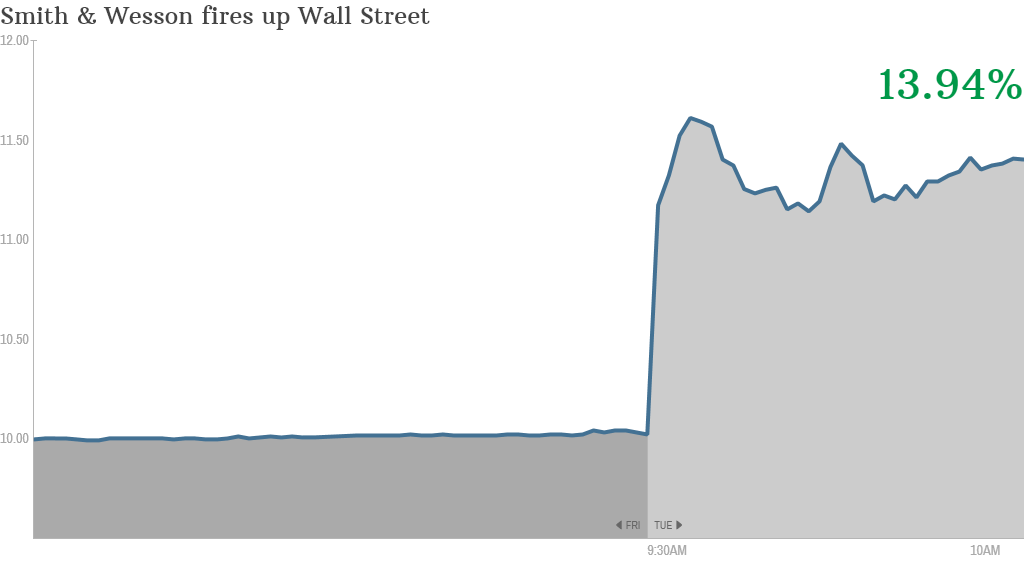 Big reversal: All of this marks a 180 turn for gun makers. Only a few weeks ago Smith & Wesson and other firearm manufacturers warned that Americans didn't seem to be buying guns anymore. They pointed to sluggish rifle sales and a supply glut caused by retailers placing unrealistically high orders for guns.
Related: Beretta wants to be US Army's new gun. Again
Smith & Wesson predicted it will generate sales of around $125 million in the quarter that ends January 31. That would easily exceed expectations from analysts for revenue of less than $118 million.
"They are really showing improving fundamentals and continue to work off a lot of their retail inventory," said Art Hogan, chief market strategist at Wunderlich Securities.
He said the "wild card" with Smith & Wesson is the bidding war that's underway to become the new handgun manufacturer for the U.S. Army. Hogan said the company is the "frontrunner" for the new contract, which would trigger an initial revenue gain of roughly $500 million.
Besides the upbeat sentiment from Smith & Wesson, there are other signs the gun industry is getting back on track.
FBI background checks -- the most reliable measure of gun sales -- soared to 2.3 million in December. That compares with around 2 million the same period the year before and marked a healthy increase from November's 1.8 million.
While Smith & Wesson is now up nearly 20% for the year, it's still trading well below its 2014 high.