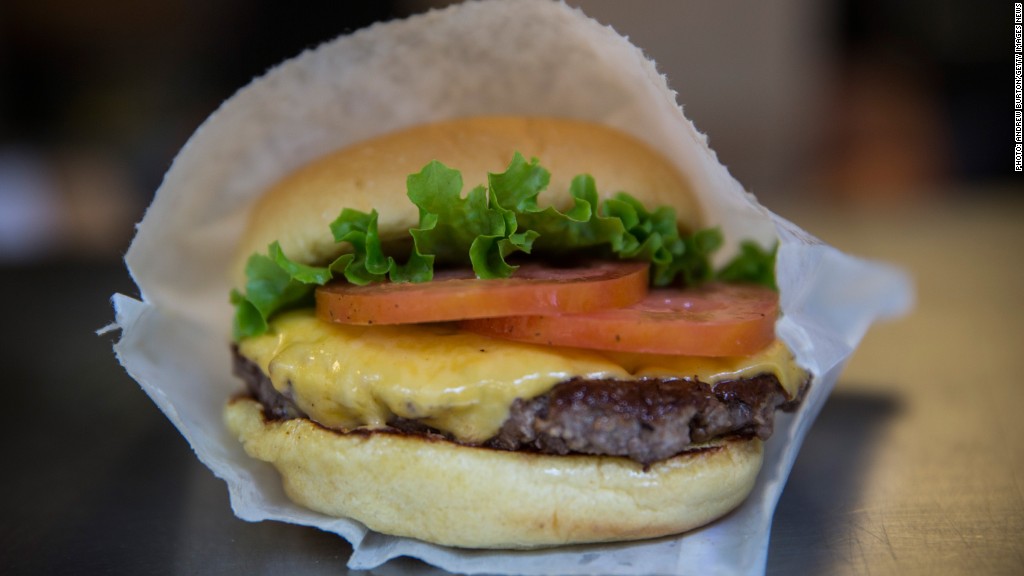 Shake Shack plans to raise up to $80 million in an initial public offering.
The upscale burger chain filed regulatory documents Tuesday saying it will sell 5 million shares to the public at a price of between $14 and $16 each. The company plans to list shares on the New York Stock Exchange under the ticker symbol SHAK.
Shake Shack first announced plans to go public in December, about 10 years after it opened its first location in Manhattan's Madison Square Park.
What started as a hot dog truck in New York City in 2001 has grown to become a chain with 63 locations around the world, everywhere from Istanbul to Dubai. The line can wrap around the park at its original New York City location (where a kiosk, currently closed for renovations, replaced the truck) as people wait to order a burger, fries, shakes, frozen custard, beer and wine.
Related: High calories = high stock prices?
Shake Shack, the brainchild of New York restaurant legend Danny Meyer, opened seven locations in the U.S. during 2013. That drove annual sales up 40% to nearly $79 million. The company is owned by Union Square Hospitality Group and earned $5.4 million last year.
Shake Shack isn't the only so-called fast casual burger chain on Wall Street.
Related: Burger mania hits Wall Street
Shares of West Coast-based burger chain Habit Restaurants (HABT) surged nearly 120% when the company went public in November.
Other burger IPOs may be in the pipeline. Smashburger has been rumored to be considering a public offering for some time. There are also reports that drive-in chain Checkers is mulling one.
These companies, like Habit, all have backing from prominent private equity firms. That increases the chances that they may one day go public.