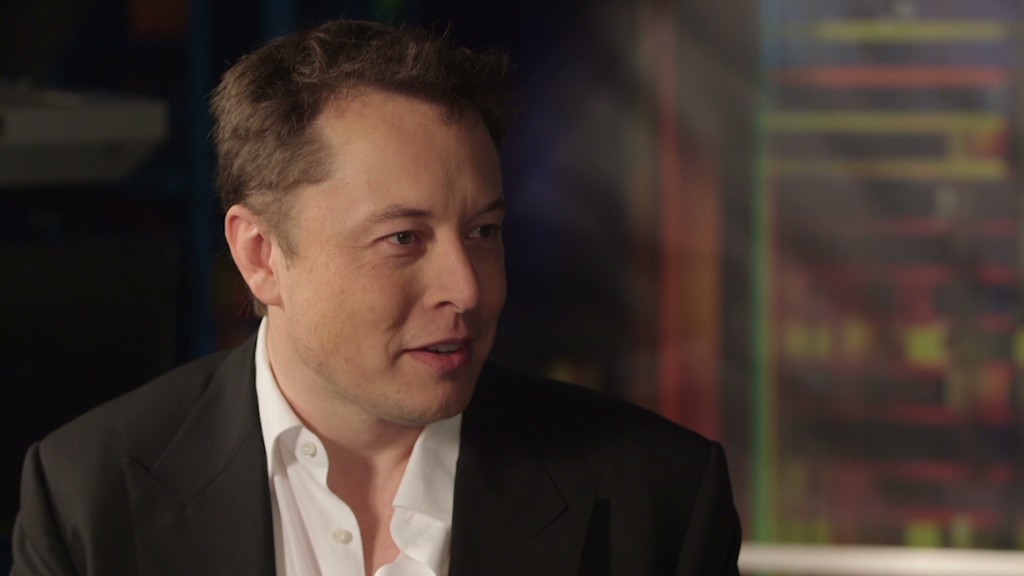 Google is an innovative company that's throwing billions of dollars at everything from drones and satellites to wearable tech, driverless cars and contact lenses that measure glucose levels in tears.
Fidelity? It runs a boatload of mutual funds that invest in the stock and bond markets. That's not exactly cutting-edge.
But Google (GOOGL) and Fidelity teamed up to buy a stake in SpaceX, Elon Musk's rocket company. SpaceX said Tuesday that Google and Fidelity contributed a combined $1 billion and collectively own about 10% of the company.
SpaceX did not give any more details about how much of the $1 billion came from Google versus Fidelity. But Google's stake in SpaceX does make some strategic sense given all the other high-tech investments it has been making.
Fidelity's investment is a bit curious.
Related: Billionaires battle for the Internet in space
It's not that Fidelity has never invested in startups.
Most notably, it invested in private shares of Facebook (FB) in March 2011, more than a year before Facebook started trading as a public company.
Fidelity has also taken part in venture capital rounds of financing for Pinterest in 2013 and Uber last year.
Both of those companies are often discussed as potential candidates for an initial public offering. That would give Fidelity an easy way to cash in on its early-stage invesments if it wanted to do so.
But Musk has repeatedly said that he's not interested in taking SpaceX public, mainly because he is hoping to one day send rockets to Mars for a space colony there.
Related: Uber leads the 2015 IPO wish list
That type of long-term venture does not mesh with the myopic "What are you doing to beat next quarter's estimates?" mentality of Wall Street traders and money managers at big hedge funds.
A spokesperson for Fidelity would not comment about why the firm was making an investment in SpaceX, simply saying that it was done "on behalf of the mutual funds."
But the spokesman added that details about which Fidelity funds own SpaceX (and how much) will be available when the company releases its next monthly holdings disclosures for all of its funds.
Related: Elon Musk gives $10M to fight killer robots
It's possible that SpaceX may have to eventually file for an initial public offering in order to raise enough capital to finance a Mars mission.
If that's the case, Fidelity may be positioning itself for a big payout. Musk has been the market's version of King Midas lately.
Tesla (TSLA), the electric car that Musk is CEO of, went public in 2010 at a price of $17 a share. Even though the stock has suffered a sharp pullback recently, it still trades for about $196. That's a more than 1,000% gain.
Musk is also chairman of SolarCity (SCTY), an alternative energy company that went public in late 2012 at $8 a share. It now trades at $48.
And Fidelity is clearly a Musk fan. The firm had a 6.7% stake in Tesla as of September 30, according to data from FactSet Research. That makes Fidelity the second-largest owner of Tesla -- trailing only Musk.
Fidelity also owned a 1.7% stake in SolarCity, big enough to make it one of the 10 largest institutional owners of the company and 13th biggest overall.
Maybe Fidelity can one day launch an Elon Musk ETF. After all, three is a trend.