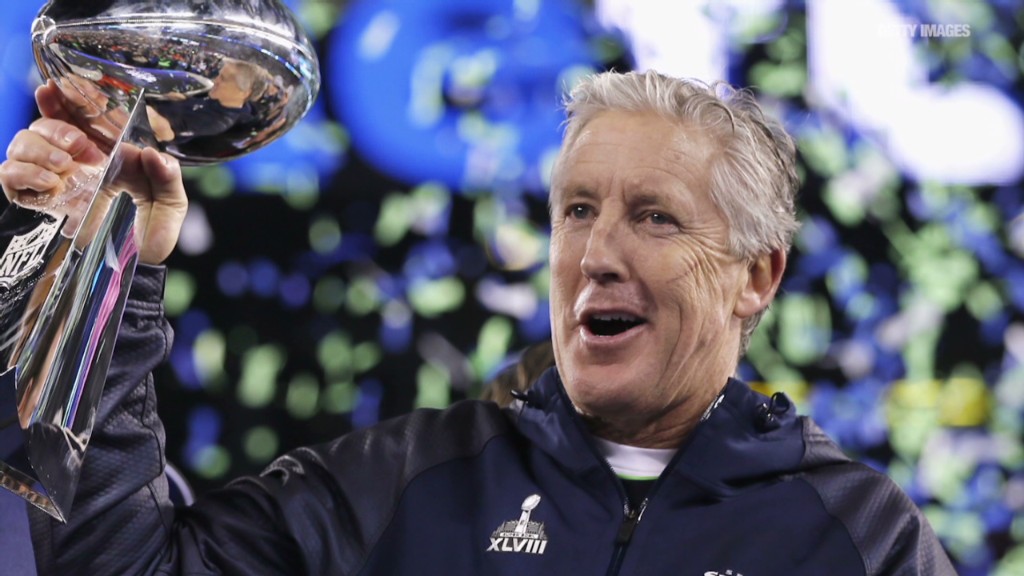 NBC will allow viewers to watch 11 hours of Super Bowl coverage online for free, including the game and halftime show.
The amount of programming being streamed is more than has been made available in previous online offerings. NBC was first to stream the Super Bowl, in 2012.
NBC, which is a unit of the nation's largest cable operator Comcast (CMCSA), typically requires online viewers of its shows to prove that they have have a subscription with a pay television service (cable or satellite).
But by allowing online viewing of the most popular day of programing without proof of a subscription, NBC is hoping to encourage more viewers to sign up for cable service in the future in order to watch NBC programming both on cable and online.
Last year it unveiled an app called TV Everywhere to try to capture more online viewers, and it will be promoting that offering for viewers watching the game online.
The game will not be available for free on mobile devices such as smartphones and tablets. Verizon (VZ) has the mobile streaming rights to the game.
Online viewership of the game is still a tiny sliver of traditional television viewership. Last year it was viewed by about 528,000 viewers in the United States, a fraction of the 111.5 million who watched on television. But those half-million online viewers is more than many other broadcast shows will attract that day.
Related: NFL earns record profits despite ugly image
NFL football is the most popular programming on television, with the Super Bowl regularly the most viewed show of the year in the United States.
The growing number of viewers who get their entertainment online is a growing concern for pay television operators. Services like Netflix (NFLX), Amazon (AMZN) and Hulu all have entertainment programing and don't require viewers to have a paid television subscription. HBO, which like CNN a unit of Time Warner (TWC), will soon join them in offering a stand-alone service.
But it is difficult to watch live sports online without a cable or satellite subscription.
Related: This year's Super Bowl ads
Recently satellite service Dish (DISH) announced it would offer a bundle of cable networks, including Disney's (DIS) ESPN, for $20 a month under a streaming offering to be known as Sling TV.
-- CNNMoney's Brian Stelter contributed to this report.