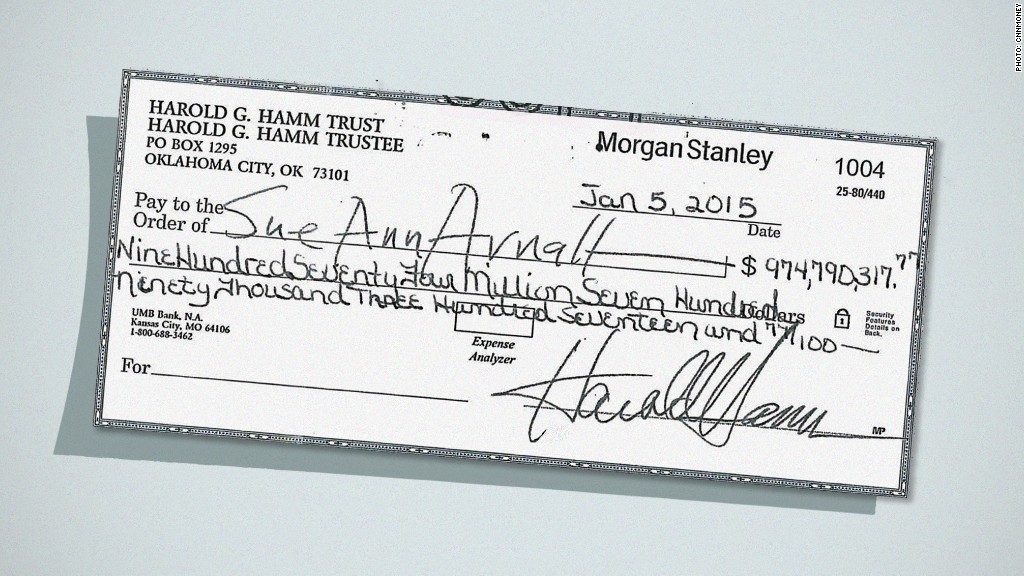 Oil magnate Harold Hamm is selling one of his companies for $3 billion, but that kind of money still won't make up for what he recently lost.
Kinder Morgan (KMI) said Wednesday that it will buy Hamm's company Hiland, which owns gas and oil pipelines and plants primarily in North Dakota's Baaken oil field. It expects to finalize the sale in the next three months.
Hamm has lost nearly half his wealth in the past six months, thanks to the dramatic drop in oil prices that crushed the value of his other oil company, Continental Resources, Inc (CLR). That brings his net worth down to $9.3 billion, according to Wealth-X, a wealth tracking company.
Related: Oil tycoon lost $9.2 billion in six months
His wallet has also been hit by a very public and expensive divorce that is costing him another $1 billion. His ex, Sue Ann Arnall, has already cashed his check for the full amount, but is appealing the judge's ruling. She says she's entitled to more.
Hamm has also appealed, claiming that he can no longer afford the $1 billion settlement because of the declining value of his company. He recently secured a personal loan, using shares of Continental Resources as collateral. It's unclear how much the loan is for.
Hamm's lawyer would not comment for this story.