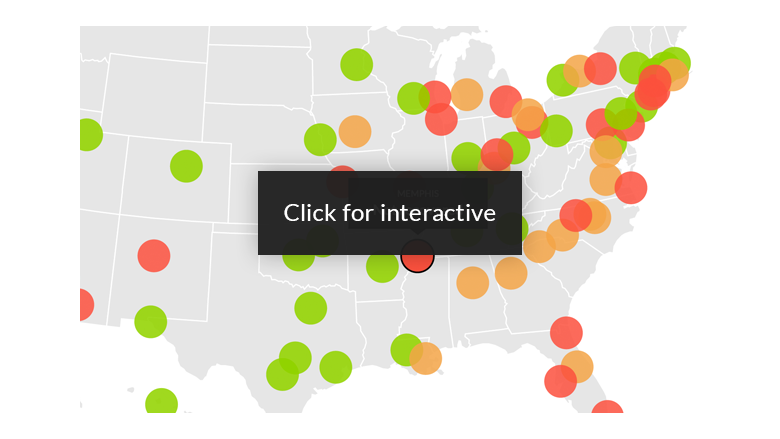 President Obama faces a new problem this year: America as a whole is improving, but most cities are getting left behind.
Sixty percent of U.S. cities have not recovered to their pre-recession levels, according to the Brookings Institution's new MetroMonitor report, which ranks the economic health of 300 cities in the world.
America is a tale of two economies: cities focused on tech and energy are thriving while some regions, like the so-called Rustbelt, continue to lag behind.
Related: America's Most Innovative Cities
"Some parts of the country are high-flying, they're doing great," says Joe Parilla, one of the authors of the Brookings report. "Other parts probably feel like they're, if not in a recession, they still feel like they're not recovering."
Austin, Houston and Raleigh -- energy and tech focused cities -- topped the list of fastest growing metro areas in 2014, according to Brookings. Those cities have an average unemployment rate of 4.3%, well below the national 5.6%.
They are doing so well that they actually beat out Beijing, Mumbai and Shanghai in economic health last year if you take into account both GDP and employment gains.
Related: Still waiting for a pay raise? You're not alone
The other America: Meanwhile, several U.S. cities located near the Great Lakes ranked in the bottom 50 cities worldwide for growth. Cleveland, Syracuse and Dayton had either flat or negative growth in 2014, according to Brookings.
Syracuse was the lowest ranked American city: it placed just above Caracas, Venezuela, where food shortages and sky-high inflation are provoking violent protests.
These "Struggle City" economies relied heavily on manufacturing jobs in the past and were severely hit with large layoffs during the recession. Now they're trying to reform their economies, but their populations are dwindling, which challenges the value of their housing markets, Parilla says.
"A lot of these places that were so reliant on manufacturing are struggling to retool that part of their economy to compete in the 21st century," Parilla says.
Brookings uses growth in employment and gross domestic product per capita, a broad measure of economic activity divided by a city's population, to rank cities.
The report also reinforces the trend that wage growth remains flat while the economy adds jobs. Almost all U.S. cities on Brookings' list had more employment growth than GDP per capita gains between 2013 and 2014.
Look at Raleigh, one of the nation's fastest growing cities: its job growth increased four times more than its GDP per capita growth last year. Brookings assigns a status to every city it ranks, and Raleigh's status may serve as a microcosm to the national sentiment: "partially recovered."