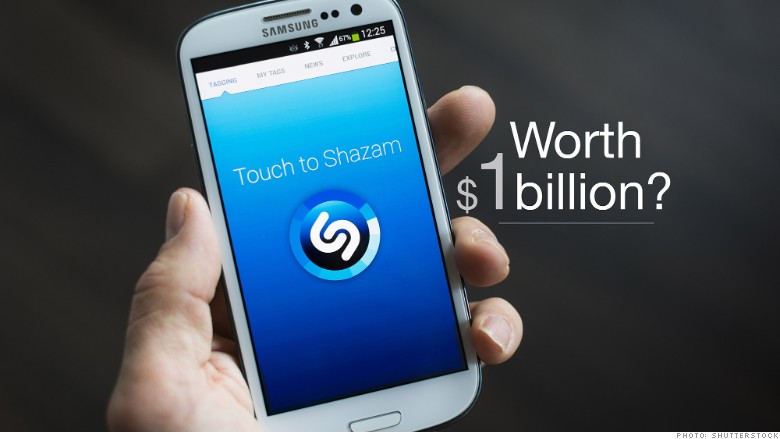 Shazam just joined the billion-dollar club.
Thanks to a new round of funding, the music app is now part of a growing list of technology companies that investors believe are worth at least $1 billion even though they're unprofitable.
While making money may not be the most important factor for young companies, the lofty price tag placed on businesses stuck in the red is raising some eyebrows.
"Markets are not necessarily rationale. This may almost be like a fever," said Roger Kay, a tech analyst at Endpoint Technologies.
Related: The startup staffed by ex-cons
It's yet another consequence of extremely easy money from central banks: Investors have little choice but to make riskier and riskier bets.
"The amount of available capital looking for good investment opportunities is enormous. Thus, you have a lot of bidding on hot companies," said Kay.
Here are 15 other tech companies worth billions despite making no money:
1. Snapchat: At $10 billion, fast-growing Snapchat is one of the world's most valuable private tech startups. Yet the messaging service generates little revenue -- let alone profits -- and it recently sparked privacy concerns.
2. Box: The online filing sharing company is poised to go public on Friday after a number of false starts. But Box recently revealed it suffered a $170 million loss in its latest year of results.
3. Twitter: More than a year after its much-hyped IPO, Twitter (TWTR) is still posting huge losses. The social network has failed to reach the must-have status that Facebook (FB) landed years ago.
4. Zynga: The fact Zynga (ZNGA) is trading roughly 75% below its 2011 IPO price shows just how hard it is to consistently churn out mobile games people actually want to play.
5. Instagram: Facebook acquired Instagram for $1 billion back in 2012, but analysts say the photo-sharing app is unlikely to be profitable. Yet it could soon be in the black as users continue to flock to the service and advertisers start to latch on too.
6. Amazon.com: Jeff Bezos has driven Amazon (AMZN) investors crazy by investing so heavily in the company (see: drone delivery) that profits are wiped out. Yet it's tough to argue with Amazon's track record given its $138 billion market valuation.
7. BlackBerry: The company helped invent the smartphone market but it clearly failed to keep up with it. While CEO John Chen has stopped the bleeding, BlackBerry (BBRY) remains a shell of its former self.
8. Pandora: After its shares skyrocketed in 2013, Pandora (P) has come back to earth as the music company grapples with huge content costs.
9. Weibo: It's known as China's Twitter and just like the U.S. company Weibo (WB) is also unprofitable for now.
10. Zillow and 11. Trulia: Both are huge names in the online house-hunting business and both Zillow (Z) and Trulia (TRLA) are unprofitable. Soon they'll also be under the same roof.
12. Sprint: The wireless company isn't just stuck in the red, it's wildly unprofitable. Sprint (S) is expected to lose $2 billion in its current fiscal year and another $1.2 billion next year.
13. Square: Heavy investment in new products have kept Square unprofitable. But that didn't prevent the mobile payments startup from recently landing a $6 billion valuation.
14. JD.com: The Chinese online retailer is unprofitable but JD.com (JD) is betting heavy investment will translate into profit-making market share gains.
15. Sony: Easily the oldest company on this list, Sony (SNE) is on track for its sixth loss in seven years due to weak demand for its TVs and cameras.