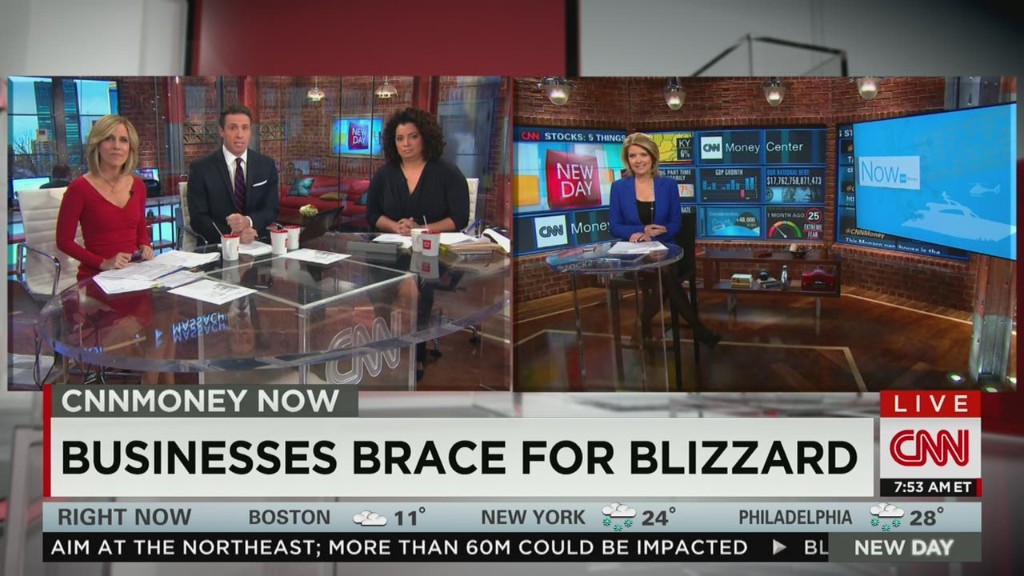 The weather outside much of the Northeast may be frightful, but the stock performance of several companies that could benefit from The Blizzard of 2015/Snowmageddon 2015 is delightful.
Shares of Generac (GNRC), a company that sells generators, are up 5% Monday afternoon. This company has often done well during times when Mother Nature is wreaking havoc.
The company's stock and earnings got a big boost after Superstorm Sandy hit the East Coast in October 2012.
Douglas Dynamics, a maker of snow plows, is up more than 4%. The company has possibly the best ticker symbol ever -- especially if you are fan of The Simpsons -- PLOW (PLOW).
Related: What you need to know if you're traveling during the blizzard
Then there's PowerSecure International (POWR), which offers smart grid monitoring and backup power services to utilities. Its shares were up more than 6%.
The stock surged early in 2014 as well following record demand in January for backup power.
Toro (TTC), which makes snow blowers, rose more than 2%. The company reported strong revenue growth last year thanks to all the snow in the early part of 2014.
Finally, Compass Minerals (CMP), a maker of salts sold to businesses and consumers to help de-ice highways, streets and sidewalks, rose about 1% before pulling back.
Let it snow? Now should long--term investors really be buying these stocks just because a mountain of snow is hitting New York and Boston? No.
Consider that even though the first quarter of 2014 was brutally cold and snowy -- heck, the entire U.S. economy contracted because of the wintry weather -- Douglas Dynamics was the only one of these blizzard stocks to beat the market last year.
Generac and PowerSecure both finished the year in the red.
So Monday's big move shows that momentum traders will try and profit from anything. But your portfolio could get snowed under if you buy these stocks just because of one big storm.