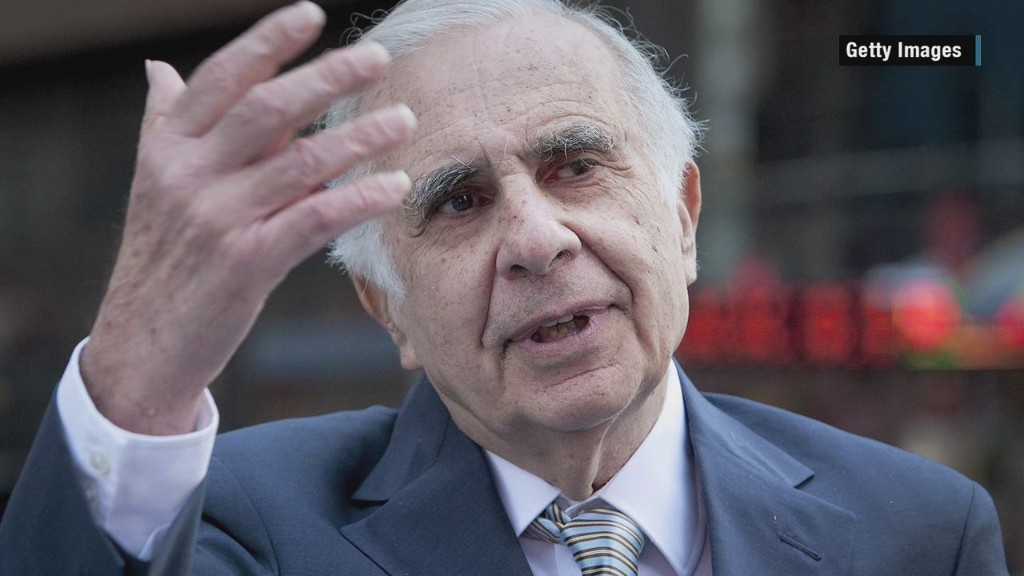 The Carl Icahn fan club is getting a little smaller. An investment firm that owns two stocks that activist investor Icahn has targeted is growing tired of him.
Ebay (EBAY) and Gannett (GCI) are the two largest holdings of Seattle-based Smead Capital Management.
"We are not happy. We have a much longer time horizon than Icahn has," said Tony Scherrer, director of research for Smead Capital. "Icahn obviously is an activist. He gets in and bullies the company."
Scherrer said that Icahn is a "distraction" to the boards of both firms -- particularly Gannett.
Icahn got the PayPal spinoff he wanted. Icahn may finally be happy with eBay. He entered into a truce with eBay last week after the online auction company agreed to name one of his firm's managing directors as a board member. Icahn often likes to shake up management.
eBay is also spinning off its PayPal unit, a plan that Icahn proposed when he first bought a stake in the firm last year.
As part of last week's agreement, eBay acquiesced to certain corporate governance rules for PayPal that Icahn wanted to put into place.
Related: Icahn is battling the workers' union of the Taj Mahal casino
But Scherrer said his firm first invested in eBay because it believed it is better off with PayPal. He thinks that Icahn's meddling may not benefit shareholders who want to hold the stock for several years -- not just a couple of months.
"The worst part about having Icahn invest in our companies is that he somehow can inflict his will in a way that benefits the stock in the short-term but takes away potential for returns in the long-term," he said.
Scherrer added that Icahn has been unfair in his criticism of eBay CEO John Donahoe.
"We think the world of John Donahoe. He has been a fantastic manager of the business," Scherrer said.
Gannett under attack. As for Gannett, Icahn is pushing to get two board seats. Gannett, which owns USA Today, is also in the process of splitting up. There will be one company for its newspapers and another for its broadcast television stations.
Icahn wants Gannett to set up rules that would make it easier for an acquirer to buy the two standalone companies once the spinoff is completed.
Related: Big layoffs planned at eBay
Scherrer is particularly annoyed by Icahn's claim that investors are not happy with Gannett's corporate governance. Scherrer pointed out that Gannett announced plans to split days before Icahn announced a stake in the company.
"Icahn is late to the party. Gannett has been one step ahead of him. It's nearly laughable that he's complaining about corporate governance," Scherrer said.
Icahn did not respond to a request for comment. But he is correct in pointing out that Gannett investors may not be completely pleased with the spinoff announcement. The stock is down 6% since Gannett unveiled its breakup plans last August.
Gannett's stock rose more than 2% on Thursday -- after Icahn asked to have two members named to the board.
Icahn's hot streak has cooled off. But Scherrer still thinks Icahn is doing a disservice to long-term investors. And he worries that Icahn and other corporate raiders -- who have amassed big war chests to invest with -- are going to circle even more companies.
"Generally, we are not a fan of activists," he said. "But there is a lot of activist money out there right now so there are a lot more potential candidates."
Related: Billionaire winners and losers of 2014
And Icahn could use a couple of new big wins for his portfolio.
His Icahn Enterprises firm had a banner 2013. The stock surged nearly 160% thanks to big wins in his stakes in Netflix (NFLX) and several energy firms, such as Chesapeake (CHK) and Transocean (RIG).
But Icahn Enterprises shares fell more than 10% last year, despite a surge in Apple (AAPL) -- which Icahn owns and is pushing to buy back more stock.
Icahn Enterprises was dragged down by the energy stocks last year as well as the plunging stock price of Herbalife (HLF), the controversial nutritional supplements maker that he has feuded about with short seller Bill Ackman.