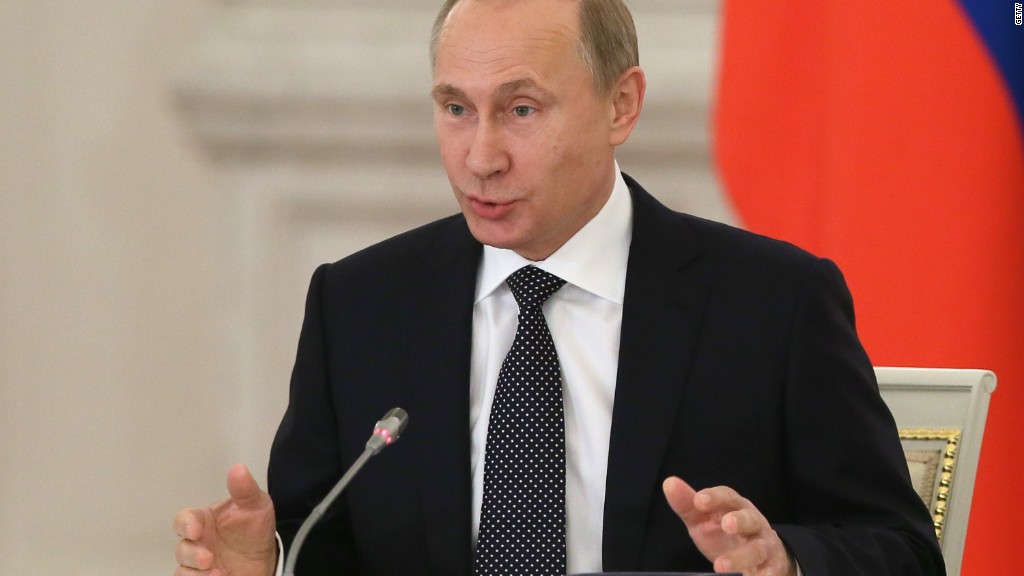 In another blow to Russia's economy, Standard & Poor's downgraded the country's credit rating to junk status.
The rating cut will make it harder and more expensive for Russia to borrow money. Many investors are required to hold only investment grade bonds and will now be forced to sell Russian paper.
Russia's economy has been pushed to the brink of recession by oil's dramatic slide. Sanctions imposed by Western nations over Russia's actions in Ukraine have also put heavy pressure on the economy.
Half of the government's revenue comes from oil and gas exports.
In December, S&P warned that Russia had few options left to revive its ailing economy and signaled that the agency had placed the country on review for a potential downgrade.
The situation has only deteriorated as oil prices continue to fall. Crude oil currently trades around $45 a barrel, compared to over $100 as recently as July. Russia's government budget assumed that oil would trade above $100 this year.
Related: Europe to Russia -- We won't blink over Ukraine
The nation's currency has plunged to all-time lows, raising concerns that it is headed for a full-blown financial crisis. It's lost over 40% of its value against the U.S. dollar. Russians have been rushing to withdraw rubles and convert them into dollars, worried about the devaluation and the soaring price of imported goods.
That has exacerbated the rubles depreciation, according to S&P, which expects inflation to rise above 10% in Russia this year.
The Russian central bank has hiked interest rates five times over the past year in an attempt to prop up the ruble.
Related: Russian elites say sanctions will never move Putin
The rates Russian banks lend to each other have more than doubled since December -- overnight lending rates now stand at 25% -- indicating just how serious the funding crisis has become.
Russia's central bank said last month it would provide an emergency loan of 30 billion rubles ($545 million) to keep a struggling bank afloat and protect customers' deposits while it engineers a longer term bailout involving a bigger Russian bank.
But S&P warned that the central bank will face "increasingly difficult monetary policy decisions" as inflation becomes more of a problem.