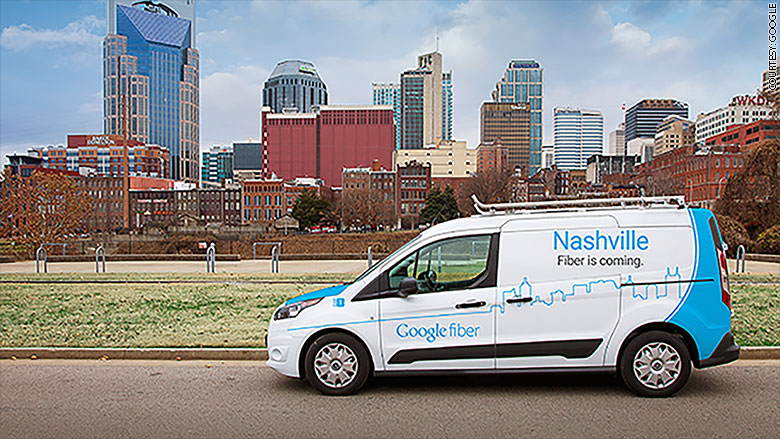 Google is expanding its coveted mega-high-speed Internet service in the South. Eighteen cities in four metro areas -- Atlanta, Nashville, Charlotte, N.C., and Raleigh-Durham, N.C. -- are getting Google Fiber, the company announced Tuesday.
Google picked these final locations from a batch of 35 potential cities, which the company spent the last year studying. The cities were invited to woo Google (GOOG) by doing much of the pre-planning legwork, such as providing maps and detailed information on infrastructure, and outlining plans to make it easy for the company to get permits and access.
"We have an entirely new process that we use to engage with cities," said Dennis Kish, vice president of Google Fiber, in a call announcing the expansion. "They put a ton of work into making themselves fiber ready and engaging with us."
The high-speed Internet service promises customers speeds of 1 gigabit per second, a hundred times the speed of a typical broadband connection.
Related: Chattanooga's super-fast publicly owned Internet
The screaming fast connections are more than many consumers currently need for streaming Netflix (NFLX) and playing XBox Live. But Google Fiber is especially alluring to universities and startups, and some cities are hoping it will help boost local economies by luring young companies. The service costs $70 to $120 a month for Internet and TV. A "free" version offers slower internet for a one-time fee of $300.
It will take some time before any customers in these four metro areas can actually use Google Fiber. In each city, contractors must install thousands of miles of fiber-optic cable from scratch, or work to upgrade existing fiber networks.
"Our next step is to create a detailed map of exactly where to put the fiber," said Kish. "Then a team of surveyors and engineers will hit the streets to fill in missing details."
Kish said construction of the new fiber networks is expected to begin in a few months.
Though Google Fiber is five years old, only three locations actually have customers online: Kansas City, Kansas and Missouri; Provo, Utah; and Austin, Texas.
Related: The business of the #hashtag
Next, the company is weighing bringing the service to Phoenix, Portland, Ore., Salt Lake City, San Antonio, Texas, and San Jose, Calif., (cities that have been in the running for the past year). It will announce details about those locations later this year after working closely with the cities to make sure they're ready for fiber.
The desire for super-speedy Internet is growing, and Google is just one company working on increasing connection speeds in the U.S. Perhaps spurred on by the competition, Comcast (CCV), Time Warner Cable (TWC) and AT&T (T) are all looking into boosting their Internet speeds.
Conveniently for the tech giant, Google benefits from people having faster Internet speeds, even if it's not the company that gives it to them.