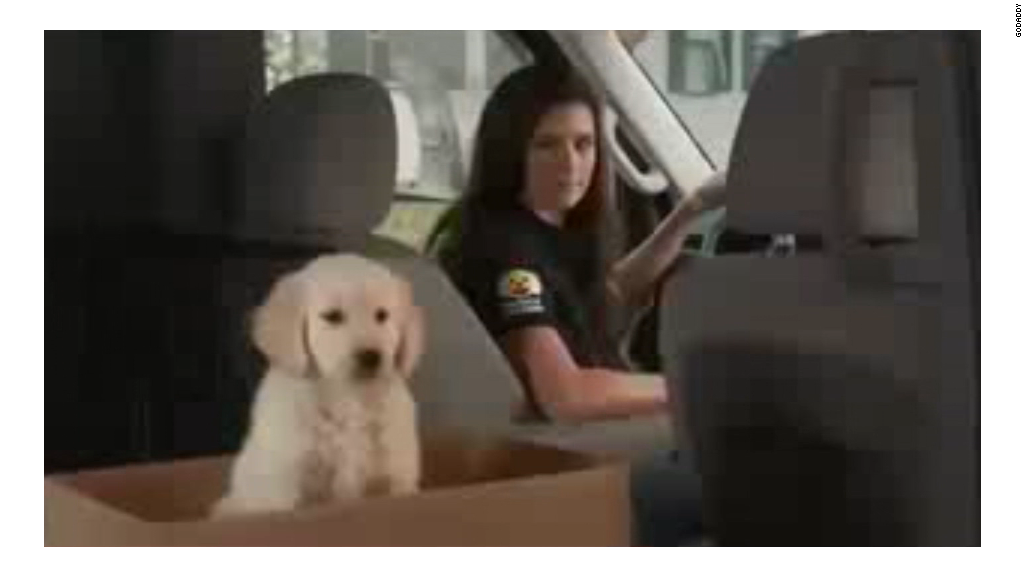 GoDaddy cracked under pressure and withdrew its Super Bowl ad starring a cute puppy.
GoDaddy has a long history of submitting ads to the Super Bowl and having them either withdrawn or rejected for offensive material. Usually their rejected ads involve raunchy humor and scantily clad women. But this time it involves GoDaddy's recently adopted mascot, a puppy named Buddy.
In the spot, Buddy gets tossed from the back of a pickup truck and runs the long distance home through nasty weather, only to be told by his owner that he's been sold online via GoDaddy. (In reality, the company is a domain name registrar, so it sells products like website addresses and server space.)
GoDaddy CEO Blake Irving said in a blog post that the ad ran on TV Tuesday morning, and "shortly after a controversy started to swirl about Buddy, our puppy, being sold online. The responses were emotional and direct. Many people urged us not to run the ad."
GoDaddy was planning to air the ad during the Super Bowl, where air time costs $4.5 million for a 30-second spot. But Irving said that he changed his mind.
"We are pulling the ad from the Super Bowl," he said. "You'll still see us in the Big Game this year, and we hope it makes you laugh."
Related: Sneak preview of Super Bowl ads
Irving tweeted his thanks to @animalrescuers, an SPCA group, for their "candid feedback."
A petition on Change.org garnered 40,000 signatures to kill the commercial.
"As someone who feels incredibly strong about animal rights, I am extremely offended by this commercial," wrote the petitioner, Helena Yurcho.
She said that GoDaddy's commercial was "encouraging purchasing an animal online; the animal could be sold to someone who runs a fighting ring, someone who abuses animals, or to someone who cannot adequately care for the animal."
Buddy has his own Twitter account, but he has not addressed the issue.