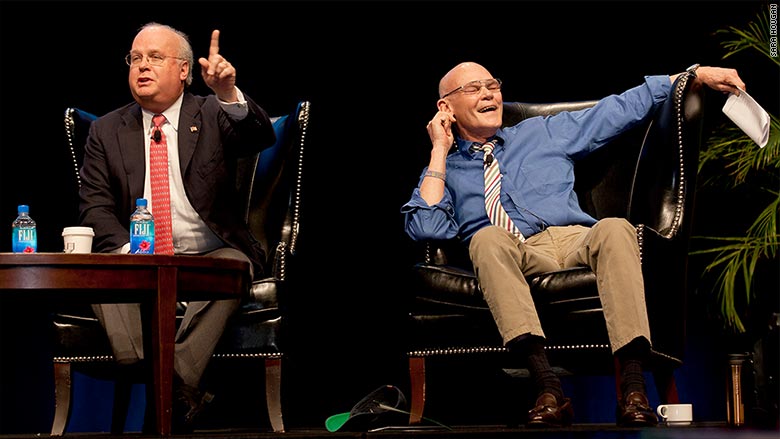 Karl Rove doesn't hate poor people.
But the Republican political operative believes there should be limits on how much the government spends on things like welfare.
"This is where liberals go: If you don't follow their policy descriptions, you hate poor people. Look, I came from nothing," Rove said this week during a colorful debate on economic policy with former Democratic strategist James Carville.
Rove explained he only was able to go to college because he received a $1,500-a-year scholarship and worked the cash register at "a hippie shop."
"But I don't want my kid living in a country that is making a series of promises that will break the country," Rove said during a presentation at ETF.com's Inside ETFs Conference.
Rove, a former political adviser to President George W. Bush, made the comments after Carville said he's "fine" with throwing in an extra buck or two to help someone go to community college. President Obama recently proposed making two years of community college free.
"It bothers me that statistically the greatest predictor of a child's financial security in the United States is the financial circumstances of their parents," said Carville, a former CNN contributor.
Income inequality is likely to be a central theme in the 2016 presidential elections. Last year the nonpartisan Congressional Budget Office found that Americans at the top of the income scale saw their incomes soar by 200% between 1979 and 2011, while incomes for those further down rose between 40% and 67%.
Related: How much it takes to get into the top 1%
Better than 6 years ago? Rove and Carville debated the overall health of Obama's economy.
"It's improving but this is the weakest recovery we've had in the economic history of the United States," Rove said, noting it took until mid-2014 to recover all the jobs lost during the Great Recession.
Rove argued that President Obama failed to achieve the economic targets he promised when he came into office.
Carville doesn't think that's the only way the economy should be measured.
"Could we do better? Yes. But it's a helluva lot better than it was six years ago," he said. "Anybody that bet against this country has lost a ton of money."
Rove attributed the economic gains to less government spending and the U.S. energy revolution, which he said "the federal government had nothing to do with."
"The less government is playing a dominant role in our economic life, the better off we are," said Rove.
Related: U.S. deficit to 'hold steady' until 2018
Fed debates economy, too: A less entertaining -- but far more important -- economic debate is going on at the Federal Reserve, which is wrapping up a two-day policy meeting on Wednesday.
The central bank is trying to decide if the U.S. economy is finally strong enough to be able to stand on its own two feet. If the Fed believes it is, officials will signal the first interest rate hike in nearly a decade.
On the one hand, the U.S. is coming off the best year of jobs growth since 1999. The economy zoomed ahead at a 5% clip during the third quarter, the best rate since 2003.
Yet that job growth has largely come without a badly-needed increase in wages. And the economy is facing serious headwinds overseas, where China's economy is slowing, political chaos threatens Europe and Japan remains in deflationary trouble.
Related: Obama says wages are growing. They're not
U.S. companies like Caterpillar (CAT) this week also revealed how they have been hurt by tumbling oil prices and the U.S. dollar, which has surged thanks to the relative economic strength. A stronger greenback hurts demand for exports, though it's great for tourists going overseas.
As Carville noted, there are more good things than bad things about the U.S. economy now. But will that be enough for the Fed to raise interest rates?