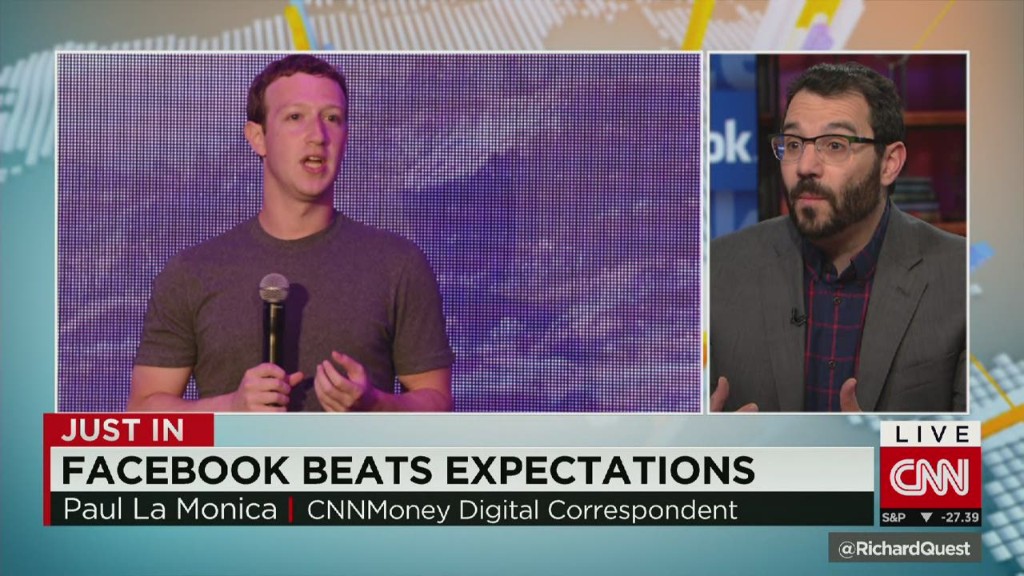 Facebook has a plan to connect every person in the world. The social network knows its goal will take time -- but it has made remarkable progress so far.
Facebook (FB) had 1.4 billion monthly active users during the quarter, up 13% from a year ago. Nearly 1.2 billion of those people were using mobile devices to access the social network, up 26% over last year.
Mobile is going to be key to getting the rest of the world connected. Many people who are accessing the Internet for the first time are doing so on a phone.
That growing mobile usage is also crucial for Facebook's business, as the number of people visiting Facebook from laptops and PCs declined last quarter. Mobile advertising made up 69% of the company's overall ad sales. Last year, mobile ads made up just over half of Facebook's advertising revenue.
But to succeed in its mission, Facebook CEO Mark Zuckerberg said his company has to do more than succeed at mobile. The company has to "evolve," Zuckerberg said, creating new tools to solve fundamental connection problems that some countries face.
In the next three years, Zuckerberg said Facebook is focused on improving its services for businesses and creating a more visual experience for consumers, improving the way people share photos and video.
Multimedia is the fastest-growing part of Facebook's business. Every day, Facebook users upload and watch 3 billion videos, Zuckerberg announced Wednesday. That's up 74% from a year ago.
By 2020, Facebook wants to become a viable search business and connect hundreds of millions more people through Messenger and WhatsApp. Those services already have 500 million and 700 million users, respectively, and Zuckerberg expects them to be the key to connecting Facebook's user base for customers who are getting online for the first time.
In a decade, Zuckerberg hopes that Facebook's Internet.org division will succeed at getting many millions more people connected. The organization has already connected 6 million people who couldn't previously connect to the Internet.
But in its effort to accomplish all that, Facebook's costs are exploding. Last quarter, the time that people spent on Facebook grew 10% compared top the prior year, as Facebook's growing base of users posted, shared, uploaded and watched more than ever on the company's network.
Facebook also grew its headcount by 45% to support its new endeavors.
As a result, Facebook spent a whopping $2.7 billion on storage, IT equipment and other tech-related items. That's up 87% from a year earlier.
Yet Facebook managed to grow its profit 34% to $701 million in the fourth quarter of 2014.
Facebook's advertisers paid 335% more for each ad purchased this past quarter than the price they paid a year earlier, sending profit higher. Meanwhile, Facebook made ads more scarce on its network. The number of Facebook ads served fell 67%, mainly due to the site's redesign of its right column.
"People are bigger believers in Facebook," Sheryl Sandberg, Facebook's operations chief, said on the call. "We're showing very healthy, very large return on investment."
Facebook's overall sales rise 49% to $3.8 billion last quarter.
Shares of Facebook fell 2% after hours.