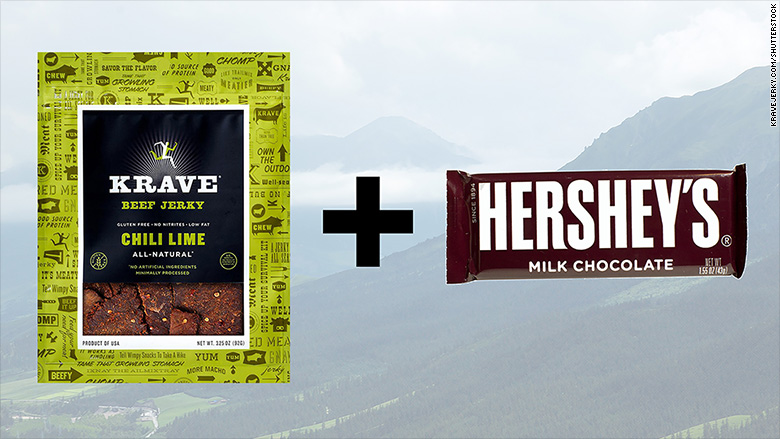 Hershey just made a beefy purchase.
The chocolate company now owns KRAVE., the maker of artisanal beef jerky. The deal was announced Thursday and marks Hershey's (HSY) first purchase outside of candy. The price tag was between $200 and $300 million, according to Reuters and has foodies wondering if a chocolate jerky might be in the works, similar to chocolate-covered bacon.
While KRAVE founder and CEO Jonathan Sebastiani confirms beef jerky dipped in chocolate (with sea salt) is delicious, he told CNNMoney there are no immediate plans for chocolate-flavored jerky.
Related: These 10 food trends could dominate 2015
KRAVE was founded in 2009 by Sebastiani, a California winemaker, who was looking for protein-filled snacks while training for the New York City marathon. Sebastiani and his staff will remain in Sonoma, California, while under Hershey.
Sebastiani has already combined his relatively new venture with his family's wine history: KRAVE jerky flavors include chardonnay thyme and cabernet rosemary.
"I'm very comfortable with exploring new flavors," says Sebastiani. Hershey's acquisition, "speaks volumes to how much the [meat snack] category has changed and perhaps even more intriguing about what the future might bring."
Sebastiani declined to comment on the exact value of the deal. Celebrity investors in KRAVE include trainer Jillian Michaels from The Biggest Loser and San Francisco 49ers' tight end Vernon Davis.
Can Hershey grow? The meaty acquisition is the latest attempt by Hershey to expand its product base. Meat snacks are a booming business worth $2.5 billion now and growing about 25% annually, according to Hershey and KRAVE.
In addition to expanding its product line, Hershey is also seeking to grow abroad. It also purchased Chinese candy maker Shanghai Golden Monkey for $584 million about a year ago, which doubled Hershey's presence in China.
But investors didn't welcome the jerky deal.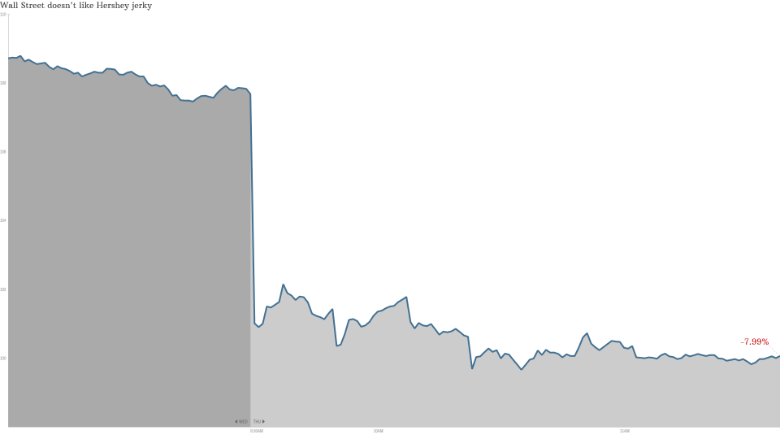 Hershey's shares dropped over 7% Thursday. The company's fourth quarter sales and earnings per share missed analysts' expectations.
Even worse, this year could be tough on Hershey's business abroad. It is the latest company to warn that the strong U.S. dollar could negatively affect their sales outside the U.S. The greenback is trading at its highest point in about a decade against many world currencies, which makes Hershey products look more expensive compared to peers from Europe like Cadbury and Nestle.